Tag archive: motorcycle
2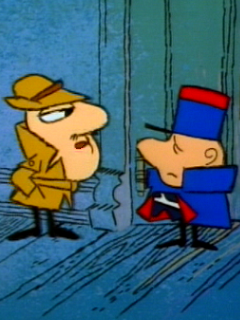 Who remembers the episode from the Pink Panther cartoon's Inspector series in which Sargeant Deux-Deux spent the whole time complaining about this painful infliction? Anyone? Well I do and I always used to laugh at the pathetic little character and shrugged off what surely was as much of a real disorder as cooties were.
WOAH Nellie…back it up. Turns out "de chilblains" (you must say it in a Spanish accent – think whiny Antonio Banderas) are REAL!
And, oh man, are they real!!

I cannot believe after spending over 30 years of my life living in the frozen Upstate NY tundra (or Hoth as I affectionately call it – Star Wars Geek Alert) and having suffered mildly frostbitten feet from spending HOURS in subfreezing temperatures that I never developed this painful, itchy, and completely annoying condition. And now, after almost 18 years of living in the warm south, I get visited by the chilblain monster. What kind of twisted game is mother nature playing with me?! I haven't even been exposed to sub-freezing temps! Or have I ….?
First, let me give you a quick explanation of the condition. I'm too lazy to write my own so here's someone else's description from Straitdope.com:
Chilblains, also called perniosis or pernio, are a skin inflammation, most commonly seen on the fingers and toes, caused by prolonged exposure to low but not freezing temps and damp … Chilblains form because blood vessels constrict from the cold, and when said constriction lasts for an extended time the vessels don't respond quickly enough to rewarming, causing blood to leak into the surrounding tissues and damage the skin. Your skin doesn't have to freeze, as with frostbite–it just has to stay cold and damp for a while. Chilblains often show up in the form of swelling and discoloration and sometimes blisters, sores, and painful nodules under the skin. They can itch something fierce and scratching can lead to a secondary infection. If they're bad enough they can cause numbness and long-lasting temperature sensitivity due to autonomic nerve damage.
FUN!
Oh and and pretty too. <INSERT SARCASM>

So, now that I have solved the mystery of what the heck is going on with my toes, I am still left with the question of "how did I get chilblains in the first place?" Then I thought back over the last few weeks and considered my motorcycle riding. While I was bundled up well and didn't suffer too much from riding in the cold temperatures (40ish degrees) and monsoon rains, I realize I may have neglected to properly care for my feet. They didn't FEEL cold (too cold that is). I'm getting older (if you haven't done the math then scroll back up and puzzle it out for yourselves) and it could be that my sensitivity to cold just isn't what it used to be – maybe my extremities don't relay that information as efficiently to my brain as they once did. Or, perhaps I'm so hard-headed that I just don't care when I'm cold because riding is just too damn fun. Probably a combination of the two, um … heavily weighted on the latter – my parents could attest to many (oh brother, way too many) instances of the latter.
So, according to the description quoted above, it doesn't take below freezing temps to get chilblains – just cold temps and dampness. I've freely bragged about riding in those specific conditions lately. And… uh, I'll bet the wind chill factor on my feet (especially after they were soaking wet) was pretty effin low too.

As much as I love my Gasolina Boots – which are SUPER AMAZING BTW – they apparently aren't imbued with super powers, like say, an invisible shield which keeps your feet toasty warm and dry in storm-of-the-century conditions. I guess I need to add more than a skimpy wimpy sock to the lower limb set-up. I almost purchased a pair of SmartWool socks before the winter season began but balked at the price and didn't bother. I'll be ordering a pair (or two) RIGHT NOW!
So there's that. Mystery solved. As I sit here following my afternoon ride today, G R A D U A L L Y letting my feet warm up to room temperature while still wearing my boots, I know with a little care, I will continue to ride another day. Happy moto riding in winter to me!
(Oh, you better believe I'm still riding! Stubborn, remember?)

 If you have any cold weather motorcycle riding tips, I would love to hear them. Leave me a comment below!
Details
0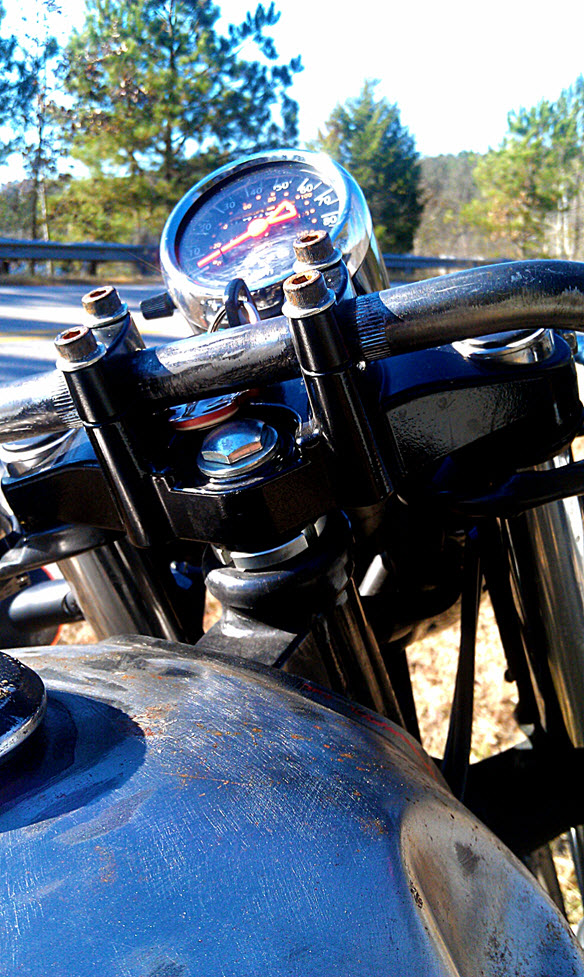 "Hey Dude!" he said said to me with a huge ear-to-ear grin and frantic wave of his arm while his eyes eagerly devoured every inch of my bike.
Today was a gorgeous day for riding the motorbike. And I don't mean above-average temperature, warm-enough-to-ditch-the-scarf, sunny-enough-to-take-the-chill-off-at-red-lights, gorgeous. I mean picture-perfect-blue-skies, sunshine, summer-like-warmth-so-that-I-didn't-have-wear-a-stitch-of-winter-gear, gorgeous. IDEAL day for crusiing the twisties; hard to believe it's December 1st! So I took the looooong way home after running errands for work this afternoon.
Near the end of my ride, I was stopped first in line at a red-light in front of a local middle school when a pair of boys, around 12 years old, strolled through the crosswalk directly in front of me. School was just letting out and the intersection was flooded with car-pool parents trying to make it through the light, kids swinging backpacks on the sidewalk, and other drivers just trying to get past the congestion. I sat there patiently, surveying all the potential obstacles when the boy closest to me burst out with his enthusiastic greeting and ardent gesticulations.
When I waved back, he nudged his buddy and his face beamed. It reminded me of times when I was a kid bravely calling out to a rider (or driver of an awesomely cool car) and getting the acknowledging nod or wave from the driver – who was a rock star at that moment in my eyes. I wish this boy could have seen me smile behind my full face helmet. The funny thing is, he thought I was a guy and I bet he would have crapped his drawers if he knew I was a woman that could almost be his grandmother's age! For just a brief moment though, I was that "cool dude" on a motorcycle that a boy looked up to – kind of like Frank Poncherello! I'm hearing the CHiPs theme song now….
I hope that little boy went home half as inspired as I was gratified. I'm treasuring being a "dude" today.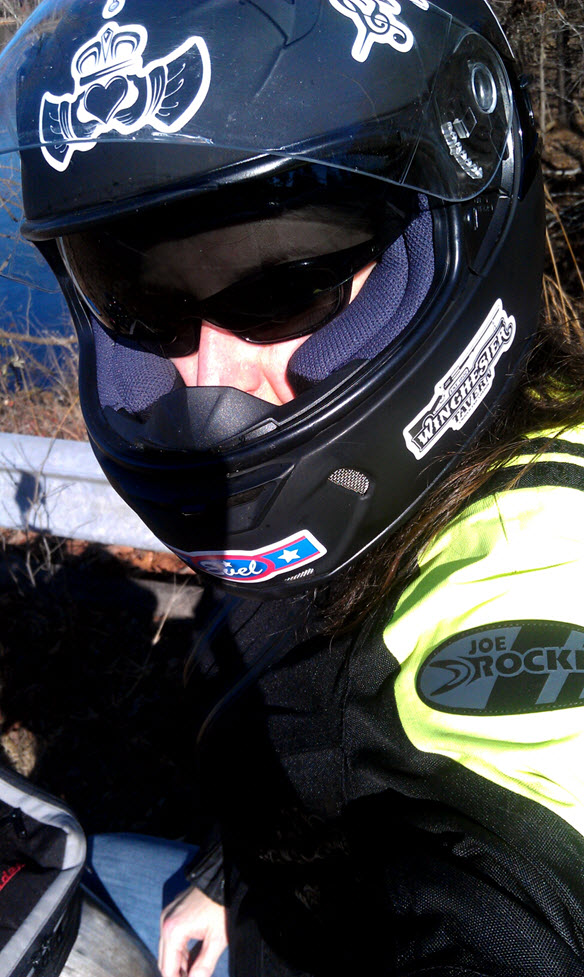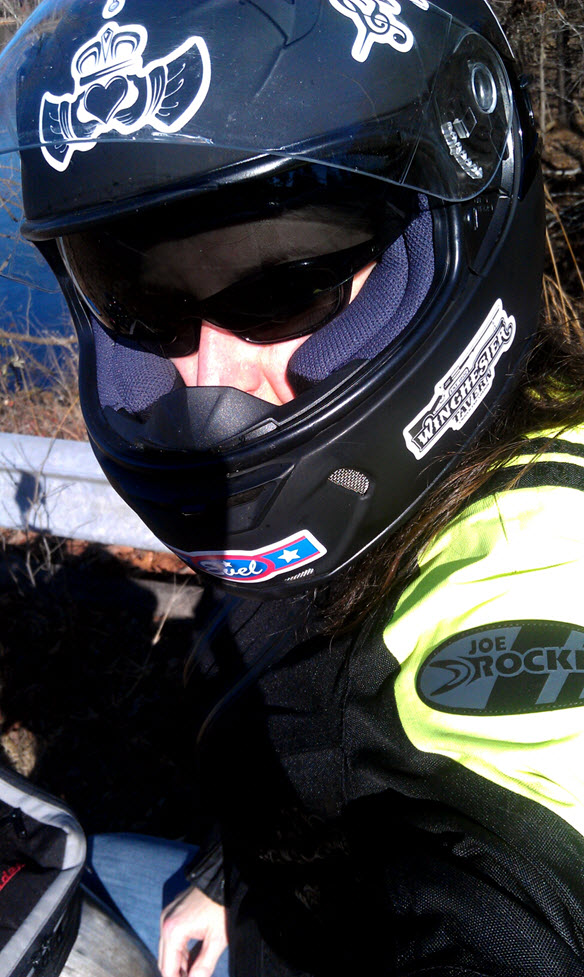 Details
5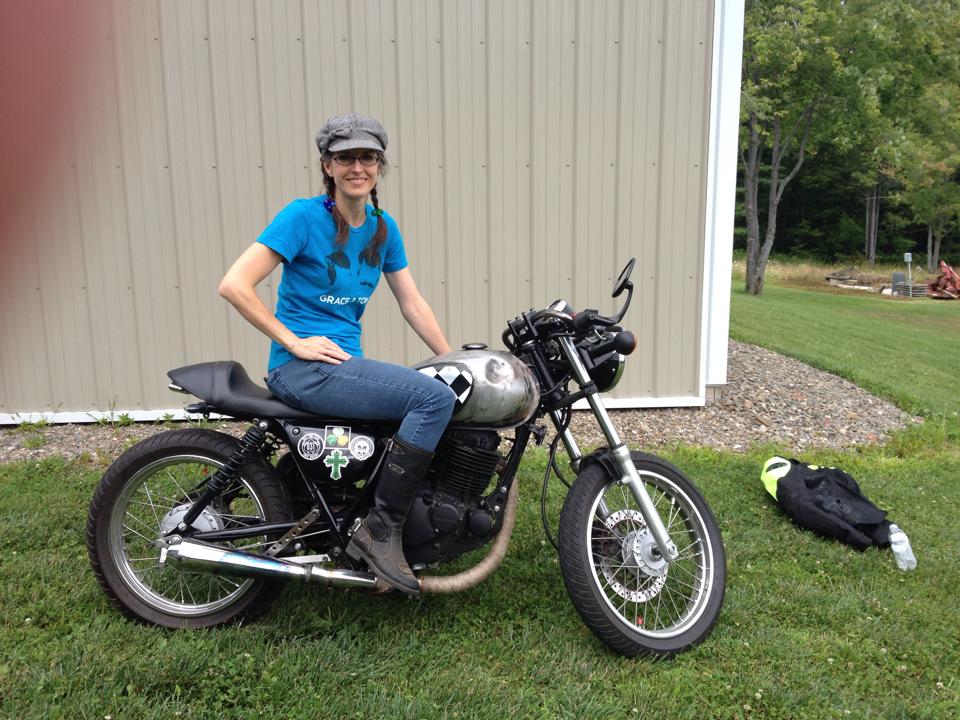 "I used to ride for many years when I was younger," she said to me with a wistful look in her eye. When she was "younger", I thought – how old could she possibly be with her waist-length, gorgeous blonde curls, and her trim athletic build?
Outside the post office, I was getting back on my bike (a 2011 Suzuki TU250 that my husband artfully chopped into a killer café racer!) when this vision of a woman approached me, imparting the camaraderie that passes between riders. I couldn't have known by her manner of dress (blue jeans, sneakers, flowing button down blouse), or by her breezy way of sauntering up to me, that she was going to start a conversation about motorcycling. Most women don't approach me when I'm on the bike (men, however, can't contain themselves – biker or not… ), so I just assume most women aren't riders and I don't take an interest in the ladies I cross paths with unless they too are on a bike or dressed in motorcycling gear.
"Why don't you ride now?" I asked her. With great pride, she told me that she's 64 years old (NO WAY!), still surfs and participates in other physically challenging activities, but faltered when she couldn't put her finger on why she hung up riding. I could see her contemplating and questioning it in her mind. So I let it go, letting her think that her "I'm 64 years old" answer was sufficient, and we chit-chatted a bit more about riding, outdoorsy things, and enjoying life to its fullest. Naturally I also had to fawn over her age/appearance disconnect. I REALLY wish I had taken her picture – she was that stunning!
As she walked away, I called after her, "You know how it feels; get yourself back on a bike before you regret it." She turned her head over her shoulder (the wind catching her luscious, long locks like a scene out of a Bo Derek movie), smiled wide and called back, "I could you know….I still surf…"
She walked away and I sighed. She gave me hope for my future. While putting on my gloves, still grinning to myself about the exchange with that beautiful woman, another woman – this one quite professionally dressed – came out of the post office. Imagine my surprise when she too approached me and started talking about my gear, specifically asking about my gloves.
"Are those Icons?" she asked as she nodded her head towards my hands, which at that moment more resembled twigs having a wrestling match with leather and nylon straps than graceful fingers skillfully putting on gloves. I looked up at her in disbelief (which was hopefully well-hidden behind my sunglasses and full face helmet) and said, "No they're not but Icon makes great ones; my husband owns a pair."  Instantly disarmed for the second time in a matter of minutes, I excitedly conversed with her about cold weather gear and the pros and cons of different materials, some of the great deals she's gotten over the years, and her extensive helmet collection. Prior to this conversation, I would never have guessed by her attire or demeanor that she was also a moto rider (or even a passenger) but indeed she was. She told me she loves to ride her bike all year but that her husband doesn't like the cold. She laughed and said, something to the effect of, "you can't keep me off the bike." And I whole-heartedly agreed with her! We chuckled about our mutual hard-headedness, passion for the ride and said our goodbyes.
Basking in the glow of these brief, back-to-back encounters, I rode off with a smile on my face and a warmth in my heart. These ladies made my day. It was endearing and encouraging to have two women stop to talk to me about their experiences. As I reflected upon the scene later, I realized a few other things:
Firstly, neither one mentioned my bike.                       At all.                             Nothing!
And that is the first and usually only thing men ever talk to me about when they see me riding. It was refreshing to have meaningful conversations about the riding experience and not the particular machine under me for a change. Not that I mind talking about and showing off my TU – she's my little mountain goat and I LOVE her – but it was unique that they not only didn't broach the subject (even though the bike was sitting there big as life), but that I didn't even notice the lack of it until after I got home.
Secondly, neither one of them felt the need to tell me to "be safe" or convey some other cautionary parting remark. That too was powerful. As if they both knew there was no need to state the obvious.
Thirdly, I am guilty of making assumptions based upon circumstance and appearance. Had they not said anything to me first, I wouldn't have given those women a second thought. They would have disappeared into obscurity as far as I was concerned and I certainly wouldn't be blogging about them now. We should all take a risk and just randomly begin conversations with strangers more often.  We could learn a lot about the people we pass every day and by listening to their stories and watching their eyes sparkle as they talk about something special, we come away blessed, if not richer, people in return.
Fourthly, neither one of them apologized for anything. In any way! There wasn't even a hint of  verbal or visual communication that smacked of excuse, concession, or justification. I often find myself making self-deprecating remarks following a compliment bestowed upon me. Take my bike for instance. Instead of simply saying "thank you" when someone shows interest and proceeding to talk about its merits, I always feel the need to apologize for it's diminutive size.
I am grateful for these two empathetic and kindred spirits who, by sharing something more than a passing nod today, taught me several life lessons and gave me something I hadn't felt before on the bike.
Today, I was a peer.
Details