Author archive: coll3297
5
Have you ever loved a horse so much that your entire life was altered by his very existence?
And have you gone to bed dreaming of him before you ever met him and then spent the rest of your life reminiscing about him after he was gone?
I have . . . and so did my father.
The following is an essay my father wrote in 1946 when he was thirteen years old and home sick with the measles.  It tells the story of a boy who desperately wanted a horse of his own to love, ride, and teach tricks to, and the little black stallion that fulfilled his childhood dreams.
About 2 years after he wrote the essay, his 9th grade English teacher, Mrs. Brooks, read it and asked him to re-write it for an essay contest, which he never did do. It's worthy to note that Mrs. Brooks was quite fond of my father because he and his trusty stallion chased down her runaway horse and saved her one day, quite like another story he relays in the essay.
My dad and mom are full of tales about life with their horses but it's a special blessing for me to have a copy of my dad's original handwritten account regaling his love for and adventures with his all-time favorite steed. I didn't edit the content of the essay; I only added some punctuation marks and a few stray words here and there that he inadvertently left off in his original writing. I've even left the paragraph structure intact exactly as he had written. He's fully aware of my additions and has approved the minor edits. I wanted to leave the story as original as possible so that we are reading exactly what he, as a thirteen year old boy, had written in 1946.
There are footnotes below which give insight to the timeline of events and offer details rounding out some of the circumstances of which he writes. Of special note is number 9 – he'd like the reader to be sure to understand that he knows you don't beat a horse to train it. Those words came from an inexperienced child and he went on to learn the finer art of communication with his horses. If reading footnotes aren't your "thing;" I urge you to at least read that one.
And now, I present to you….

› A True Story of a Horse 
Written by Stephen Loren Illsey, 1946
Edited by Colleen Ann Guest, 2013
This is a story of my colt and I. But I must start at the beginning.
I was a boy at the age of thirteen [1] and I had always wanted a horse of my own. My mother had had several horses since she was a little girl and she thought that it would be nice for me to have one of my own, but little did either of us dream that it would come true.
My mother went one day to visit her sister who also lived on a farm. They got to talking and she told my mother about a little colt they had on the farm. He had been tied there most of the winter and they carried feed and water to him because they were afraid as he was a stallion, and he had tried to strike them when they tried to lead him. [2] Then mother went to the barn to see this little fellow who was only six months old at the time. On first sight she fell in love with this pretty little black colt for he was black as coal. Mom wanted to take him outdoors but her sister said that he would strike her; but Mother took her chances and fixed a twitch and put it on his nose and in no time she led him from the barn.
Oh yes, he did try to act up, but Mother was too smart for him, and the first thing he knew was that he was sitting on the ground. Then she called my cousin who was about thirteen, very light for his age, and sat him on the colt's back. Once more she started leading him but what happened is he laid down.  My cousin jumped and rolled away from him; he was scared. Mother said to him, "Where are you going? I've still got a hold of him." But he only answered back, "I've heard stories about stallions before and what they'd do if they got you under them." Mother laughed and said to herself, "They are really afraid of this little fellow."  Then she thought to herself, "Why don't we buy him for ourselves?"
Someone had named the colt "Highboy" so we kept calling him that although the name didn't quite occur to me. [3]
Mom came home and talked to Dad about getting the colt, but Dad didn't seem very enthusiastic about it. Then Mom, seeing that she wasn't making any progress with Dad, said, "He is a nice little colt and has the most intelligent looking head and every bit of him is pure black.
It was about a week after that and Mom and I hadn't been making progress with Dad about the colt, or at least we didn't think so, when one evening Dad and Mom were reading the paper and my brothers were playing or something, and I was thinking about how good it would seem to have a colt of my own to teach tricks to.  I never realized how hard the task would be.
Then before anyone realized it, a truck stopped in front of the house. A man knocked on the door and my father went to see who it was. I could hear them talking in low tones but I did catch a few words. "Surprise" was one, and then I heard "he" and "fine" and a few others that didn't make sense.
Then Dad called Mother and me out to the truck. And there it was – a small horse about the size of a pony. "There," said my Dad "is your colt. Now let me see you unload him."
At first I started to walk right up in beside him, but then I stopped all of a sudden, thinking, "What if he should kick?" Then I looked at him again and said to myself, "Well, if I'm going to handle you, I better start now." Again, I started to walk up in beside him, but this time I didn't hesitate. I untied the rope that held him and thought that I could push him out of the truck backwards, but that was useless. So I turned him around and tried pulling him out, but still, he wouldn't budge. Then Mother said, "Here, let me help you," and the next thing I knew was that he was standing right on the ground beside me. "How did you do it?" I asked looking very much puzzled. My mother explained, "Oh it's quite easy when you know how." [4] Come to find out, Dad had hired the man to go and get the colt. [5]
About a month after that, Dad told me that I had better start teaching my colt tricks because pretty soon he would get too big for me to handle, By the end of five months I had taught him quite a few tricks. Each one taking more patience and time, until I thought that he was the dumbest animal that ever lived; but one by one he caught on, and finally I had him so that he responded to each one of my commands. [6]
Soon after that I thought that it was about time I started in riding him, so one day I went to the barn and fixed my mother's saddle and bridle to fit him. He didn't mind my putting either one of these funny looking things on, but when I got them on him, boy, did he ever look awkward! Then I took him outside and before he realized what was going on I jumped aboard and hanged on for my life, expecting any second to go flying and hit the ground, but to my great surprise, nothing happened. Then I patted him and tried to urge him on but that didn't go so good. So I kicked him in the ribs and yelled but he still wouldn't move. So I got off and took him to the house to show my mother how he acted but this time, things were different. Instead of me jumping on I just took my time and the moment I was in the saddle I was out again. I picked myself up out of the dust and blinking my eyes, I looked around and there stood Highboy. I think that if he could have laughed like a person he would. "Why you tricky little mule," I hollered as I went up to him. "You wait until I get a strap, I'll teach you to buck when I'm not expecting it."
So I got myself a strap and once more got on. But instead of just standing still or bucking he took me for one of the scariest rides I've ever had. All of the way down hill he ran just as fast as he could go, jumping everything in his way until he finally reached the main road, but not stopping for cars or anything. Neither talking nor pulling on the reigns did any good. But finally he did stop and when he did, he did it so quick that I found myself on the ground sputtering and yelling at my colt. I was so confused and puzzled about my new experience that I hadn't stopped to think about what would have happened if we had collided with a car or if he had fallen. I was still so shaken up and every bone ached that I decided not to beat him and the expression on his face showed that he was sorry. [7]
A little while after that I got a new bridle and pretty soon I had him responding to each turn of the reigns.
After that my mother and I rode often together because she also had a horse.
One day two of my mother's friends came up and wanted to ride although neither one of them could ride very good. We had four horses, so we let the girls ride, but we only had two saddles so we let the girls ride in them, so my mother and I rode bareback. Mom warned me that I shouldn't ride Highboy bareback, but I finally succeeded in telling her that nothing would happen; but I was wrong.
We were riding through the fields, when one of the girls started running her horse. Then we all started.
We were going pretty fast and Highboy was in the lead. I wanted to see if anyone could catch me. I had forgotten that the girls couldn't ride too good but I guess that luck was with them. All of a sudden highboy turned around without me expecting it. I didn't have time to catch my balance before he turned again and then I fell.
All that I remembered is that somebody was talking to me. I woke up again to find myself home. The doctor was there. I asked what had happened but before anyone had time to answer I found out. Pains shot through my right arm and into my head. The doctor told me to lie still; that my wrist was broken.
Three or four weeks after that, my arm healed quickly. Highboy was turned loose in the pasture. My brother was walking in the pasture when all of a sudden Highboy started to chase him. My brother turned and ran toward our dump rake in the pasture. First Highboy would run one way and then the other way around the rake. My brother yelled and hollered hoping that someone would hear him. [8]  Just by luck, I happened to be outdoors and I ran to see what the trouble was. I crossed the fence and ran down to the rake. Highboy stopped all of a sudden and looked at me. I knew at once that he meant to chase me also, so I ran right up to him before he had a chance to move and hit him. At once, he cowered and moved back .I hit him and then I had him in my power because sometimes if you show a stallion that you're not afraid (of) him, he'll calm down. [9]  After I assured Highboy that I wasn't still mad at him, everything was alright.
One day when I was riding, my saddle appeared too tight for Highboy, so I got off and loosened it. My mother said that we had better water the horses so we rode over to the creek. Highboy naturally just put down his head to drink. All of a sudden I felt myself slipping. Before I could do anything about it, I landed into the creek. I never heard anyone laugh before like my mother did. I guess that she laughed all of the way home.
Another time my mother was riding a horse that we boarded on our farm. The horse got to running with her towards home and she couldn't stop him. We had ridden up to the neighbor's house to buy a dozen of eggs and I was carrying the eggs when the horse that my mother was riding got to running. I didn't know what to do, so I started after her on Highboy. Luck certainly must have been with us both that day. The road was slippery but yet I urged Highboy on. I knew that if the other horse ever tried to turn into our driveway at the speed he was going, he would fall down. Faster and faster Highboy ran. The wind blew hard against my face and made tears come into my eyes. But before I knew it, I was reaching out and pulling on the other horse's bridle. I guess Highboy saved the day. Oh yes, I mustn't forget tell you that not a single egg was broken.
Not many more things happened after that. Highboy was conquered and was at last ready to obey me.
Not hardly a day passed last summer but what my mother and I had ridden.
We are looking forward to a colt from our mare of which Highboy is the sire. [10]
› The End 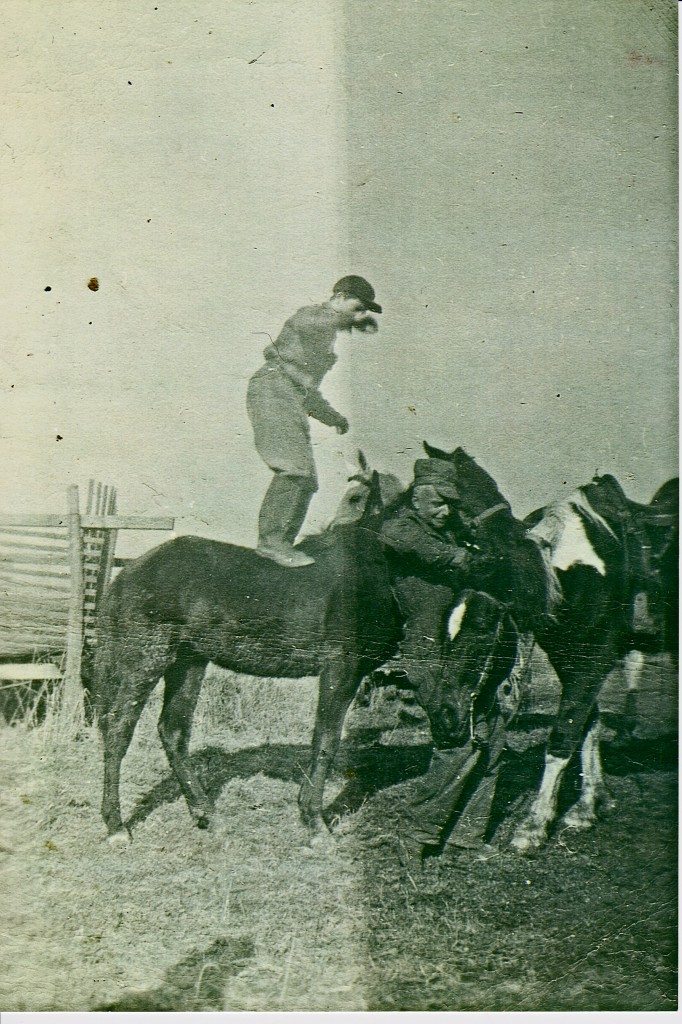 Editor's Notes
My memories
It's my great misfortune that I never knew this horse because he died in the spring of the year I was born. The mares on our farm had several foals sired by him, so I knew quite a bit about his temperament through his offspring. My mom had a feisty horse named Penny and the foals they threw were quite mischievous. I remember vividly one incident in which my brother and I had gotten chased down by one of those horses; it seems that chasing was apparently in their blood!  She was a mare named Pride and I fondly recall her living on the farm and even which stall she occupied in our barn. At some point she had been sold and we went to visit her a few months after she left us. My dad sent my brother and me up the hill in her new pasture to call her down, and when she saw us, she came barreling down the hill after us. No matter which way we turned she snaked behind right on our tails. We thought for sure she was going to catch us and KILL us! We ran for our lives and bolted through the fence rails just as she was about to catch us. But when she got to the fence, it appeared that she was in fact happy to see my dad, despite how antagonistic she appeared to my brother and me. He had her trained to rub her muzzle on his cheek when he asked her to "give him a kiss," and she happily obliged when he asked her on this occasion. It was the last time we visited her, and although I really liked that mare, I was glad we didn't have to go through the chase ever again.  Whew…my heart still beats fast in my chest when I think about it and I can almost feel her breath on the back of my neck to this day. I've got other, perhaps more harrowing tales with horses, but I was never more scared of a horse in my life as I was that day running for my life down that hill. If you ask him, I think my brother will attest to the same.
For the Love of a Horse
I am so very blessed to have been given a legacy of the love of horses and the ability to communicate with animals. When my dad speaks of his mother saying that it's easy to handle a horse when you know how, I get it! My grandmother and parents taught me how to communicate non-verbally with all of our animals and that knowledge transcended simply training them. A phrase my dad used while working with me and the horses was, "Horses and kids – it's all the same. If you can raise a horse you can raise a child."  I took that to heart and I'd like to think that it was valuable information which aided my parenting skills. But before I was a mom, my horse Sugar was my child, my best friend, and my soul mate. When everything else in my world went wrong, my horse would always be there to make it better.
And I would be remiss if I didn't mention that my mother is an accomplished horsewoman herself and she spent countless hours helping me train the ne