Tag archive: Neel Guest
2
TMI warning...
While being infirmed with the flu this past week, I have not showered and haven't even changed my clothes. In a week. A whole week. Let that sink in a minute….Eww, gross I know!
But in my defense the thought of droplets of water hitting my fevered skin seemed like it would feel like someone peppering me with bird shot, not to mention how totally exhausting the whole taking-a-shower ordeal would have been. Changing my clothes meant I would have had to drag the fabric across my skin and that sounded excruciating. So I tried my best to ignore how icky I was getting. The greasy hair, the oily skin, the unshaven pits, etc . . . I ignored it all. With a hopelessly stuffed nose and super polite husband, I can't even speak to how I must have smelled. I did however, muster up the courage to "wash up" and brush my teeth daily, but it was a quick affair and didn't do much to scratch the surface of the growing oil slick taking over my body.
Late yesterday afternoon, my fever finally broke! Oh what a glorious moment, for I knew the creepy, crawly, skin prickles were on their way out the door soon! I woke up this morning still feeling sick, but without the fever - so I determined TODAY would be the day to reacquaint myself with that corner of my bathroom which holds the BB-gun shooter known as "the shower."  I admit I was a little scared. With trepidation I turned on the water and thought . . . Do I REALLY want to do this? Maybe I'm being a little premature. After all it's really only been a week . . . I turned away from the shower and one look in the mirror convinced me to turn right back and get in.
Fast forward...I survive the shower, blow dry & flat iron my hair, get dressed in some comfy CLEAN clothes, and make a cup of tea. About this time Neel gets home from church. He comes in the door talking about how great the service was and how glad he was that he made the effort to go even though it would have been easy not to since I didn't go. All the while he is talking I think how odd that he hasn't even said anything about how much better I look (and surely smell). He then says he needs a hug and will be careful because he knows how painful my neck, back and skin feels from being sick. So he comes in for the hug and I think - here it comes - he's gonna hug me tight but gently and sniff my hair and say how nice I smell and say something about how great I look . . . and. . .  he hugs me ever so nicely . . . and . . . here it comes. . .  and . . .  I even hang on a bit longer than normal . . . and . . . and . . .
Nothing. . . He breaks away, makes some random small talk and then starts talking about putting up the Christmas tree. Are you kidding me??? I had hit the all-time low in personal hygiene just prior to his leaving the house and performed a miraculous overhaul in time for his return and he doesn't notice?? Which is odd because he ALWAYS notices even the minutest details in a person's appearance. I begin to wonder if he is not feeling well . . . Or if the body snatchers got him while he was out.
But I let it go and he goes about the business of vacuuming and putting up the tree. The hideous, falling apart, fake Christmas tree I bought for $10 about 10 years ago, which he doesn't fluff up the individual branches so they just hang in terraced flat layers, stuffs a string of lights on it so all the colors and bright spots clump together, and there will be no further decorations added, and, and . . . and my OCD is about to explode - - but (deep breaths) that's fodder for another blog.
About an hour later, after he's done "decorating," I finally engage him in the following conversation:
ME: Honey, didja notice anything?
HIM: Whaddaya mean?
ME: (smiling)
HIM: (looking bewildered) About the tree?
ME: No. About me (smiling my best)
HIM: (looking panicked and scrutinizing me) Um . . . Your hair is getting longer?
ME: NO Dummy, I took a SHOWER!!!!!
HIM: Oh. . . No, I didn't notice.
ME: ARE YOU KIDDING??? I was a greasy, nasty, filthy mess and I must have stunk to high heaven and you, Mr. I-can-spot-a-lip-sore-on-a-midget-from-100-yards-away, DON'T NOTICE????
HIM: Well, you looked fine and you honestly didn't smell bad at all so, nope, didn't notice.
 I love this man!
I smile with marital contentment as he heads down the hall to put away the tree box; I pick up my tea cup and begin to sip while reflecting on the moment.
Then, in mid sip and with sinking realization, it hits me! So I shout after him down the hall . . .
"DANG – I could have gone another week EASY!"
Details
0
I constantly post on facebook or twitter about my grain free living but rarely do I take the time to post recipes of what I eat in place of all those poisonous grains.  Today I'm going change that. I will share an amazing ginger lime veggie bake I just whipped up on a whim this afternoon but first,
Some History…
Grain free eating and living is a way of life for me. It has to be!  Grains are poison to my body and most likely they could be to yours too. But when people turn up their nose at the thought of not being able to eat pizza or give me the sad puppy eyes of pity, I just laugh to myself. They have NO IDEA how well I eat or how tasty my food is! My husband and best friend have been lucky enough to experience my cooking and they will tell you – it can be restaurant quality AMAZING!
This week my husband has voluntarily chosen to give up grains for one week to see how it makes him feel so I've had to think a bit more creatively to keep his interest. He's on day 4 and hasn't cheated or felt deprived; on the contrary he's LOVING IT! So far so good… Today I offered to make some roast vegetables for him since we totally pigged out on eggs and grass fed pork sausage from our local farmer's market yesterday, but I wanted to change up my usual veggie bake. Normally I throw some veggies in a casserole dish, drizzle them with olive oil and shake some Italian spices over them and let them bake for about an hour. Walking around the grocery store on my lunch break, I had a stoke of brilliance! I was going to make a ginger lime Oriental flavored dish…but I didn't know how. But how hard could it be? All I needed was ginger, lime, and veggies right? Easy! Well, I got a bit more creative than that and I'm glad I did. The results were worth it.
The Recipe
Now "Recipe" is a VERY loose term in my world.  Keep in mind that I don't have a culinary degree and I don't measure. I just wing it but I usually make out OK. You'll have to be brave and trust yourself to add just the right amount of spices and ingredients if you choose to replicate my creations.  I rarely replicate them myself!
1 sweet onion – cut up
1/2 bulb of garlic – peeled & pressed
2 red bell peppers – cut up
2-3 heads of broccoli – cut up
1 bunch of asparagus – woody ends cut off
1 lime
sliced raw almonds
ground ginger
curry
red pepper flakes
paprika
sea salt
coarse ground black pepper
1/2 cup or more olive oil
Saute the onions and garlic in a frying pan with some olive oil until soft and a bit caramelized.  Place the broccoli and red peppers in a casserole dish and add the onions and garlic. Place the asparagus on top of the other veggies, keeping them all lined up in one direction (I don't know what that does for the flavor but it keeps my OCD from spazzing out!). Sprinkle plenty of sliced almonds on the top.  Mix together in a bowl about 1/2 cup olive oil, and the spices – I cannot begin to tell you how much; I don't measure remember?!. Squeeze the juice from the lime into the mixture and then zest the lime over the veggies. Pour the oil/spice mixture over the veggies. Place in a 350 degree oven for about an hour.
My husband RAVED over this dish and I honestly was pretty impressed with myself too. I imagine a few sesame seeds would be a tasty addition too. So if you try it yourself, you'll have to let me know how it turns out!
As for me… I'm stuffed! Where's my glass of wine….
Details
1
Buried in the waters of Baptism, raised again to new life in Christ!
Those were the words I heard going under and coming out of the cool water on the first weekend in June. But more than the words in my ears and the water rushing over my body, I felt something that I rarely ever do. I felt the Holy Spirit moving and speaking to me. The words  "Well done good and faithful servant"  played out in my head as I was briefly transported away from this earth and back again in the few seconds it took to go under the water and come up out. I honestly and truly believe I died and came back in some sort of literal sense..not symbolically. A few inches under the cool water I felt a peace, calmness and beauty that cannot be described and most of all I felt the overwhelming presence of the Holy One right there with me the whole time. "Supernatural" comes to mind. And I was COMPLETELY caught off guard by the whole experience.
Romans 6:3 Or have you forgotten that when we were joined with Christ Jesus in baptism, we joined him in his death?
In the moments leading up to the actual "dunking" (as I've affectionately called it) I was thinking about how I should be feeling about it. In fact, for days  prior to the big moment I was struggling with how I should feel. I was saved as a child and I've always known Christ was my Lord; my salvation has never been in question for me. But being raised in the Methodist church where people are "baptized" as babies, it never crossed my mind that I should do it again as an adult even though I've been attending evangelical Baptist churches for the past 10 years or so. In these churches we are taught that being baptized after salvation is an act of obedience and a testimony to the world that  we are believers in Christ. While baptism itself is not a prerequisite to salvation, this simple act is one that Christ himself asked us to do as a demonstration of our faith. Even Jesus himself was baptized  – and there was certainly no question about his eternal home.
Romans 10:9 If you confess with your mouth that Jesus is Lord and believe in your heart that God raised him from the dead, you will be saved.

Mark 1:4 This messenger was John the Baptist. He was in the wilderness and preached that people should be baptized to show that they had repented of their sins and turned to God to be forgiven.

Matthew 3:15 But Jesus said, "It should be done, for we must carry out all that God requires." So John agreed to baptize him.
Soooo….what to feel? I knew in my head that I should do it, my church was requiring it as a part of my membership, and I had no good reason why I hadn't done it before.  So there I stood, waist deep in the water along side hundreds of fellow believers and over 30 people who were in the process of being baptized themselves and suddenly something sparked. I watched intently as the children's pastor baptized the very children that he had the privilege of sharing the Gospel with. Kids that he taught for years and prayed over daily. Those precious little ones who heard the Word and were convicted by it were joyfully doing the thing I had avoided doing for decades. While watching each child go under and come up I was overcome by emotion. How wonderful must this pastor feel to actually baptize the people (in this case many children) with whom he shared the love of Christ? My heart broke once again for all the people who I had failed to share the Good News with, and that in one day this pastor welcomed more people into the kingdom than I had done in my entire lifetime. I renewed my conviction that my sole purpose in life is to share the love of Christ – all other things are insignificant if they don't ultimately aid me in that intention.
If nothing else happened that day I would have gone home feeling that being baptized was worth it for that conviction alone. But something else did happen. I was not prepared for and I did not ever suppose that the Holy Spirit would invade my personal space during any moment of the day. After I came up out of the water I gleefully waded around to others for jubilant hugs of congratulations. I tried to put into words what I heard and felt. I couldn't come up with the right words or descriptions, but one of our pastors did for me -  He said I was Obedient.
Obedience – - YES, that's it!! That's what I had done that I had failed to do for such a long time. And even though my salvation was never in question, I had not been obedient to the calling of Christ in this one area. I had no idea how much it pleased the Lord and how much His pleasure would spill over to my very soul for such a simple act as  proclaiming Jesus as my savior with my lips and then being dunked under the water for a few seconds in public. Being baptized isn't about me or doing some ritual to join a church, it's about being obedient. And for that alone my Father is well pleased with me. My husband put it best when he said, "If it's good enough for Jesus to do, then it's good enough for me." I walked away a changed person that day and I will never be the same again!
Romans 6:4 For we died and were buried with Christ by baptism. And just as Christ was raised from the dead by the glorious power of the Father, now we also may live new lives.

Galatians 3:27 And all who have been united with Christ in baptism have put on Christ, like putting on new clothes.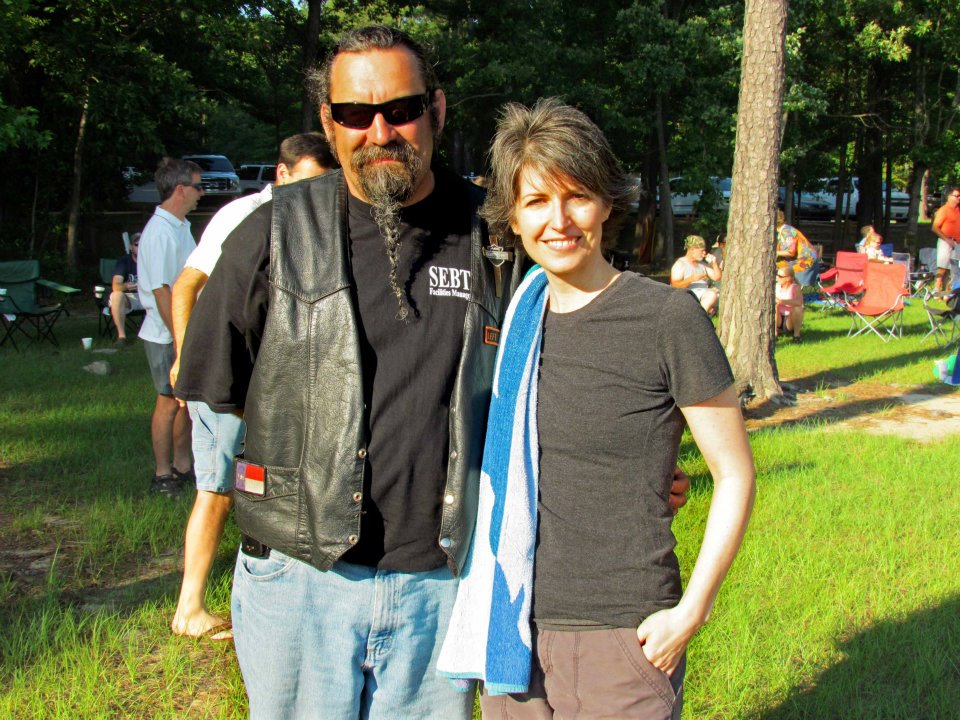 Colleen and Pastor Jim Gillespie
Details