Tag archive: Garcia Moto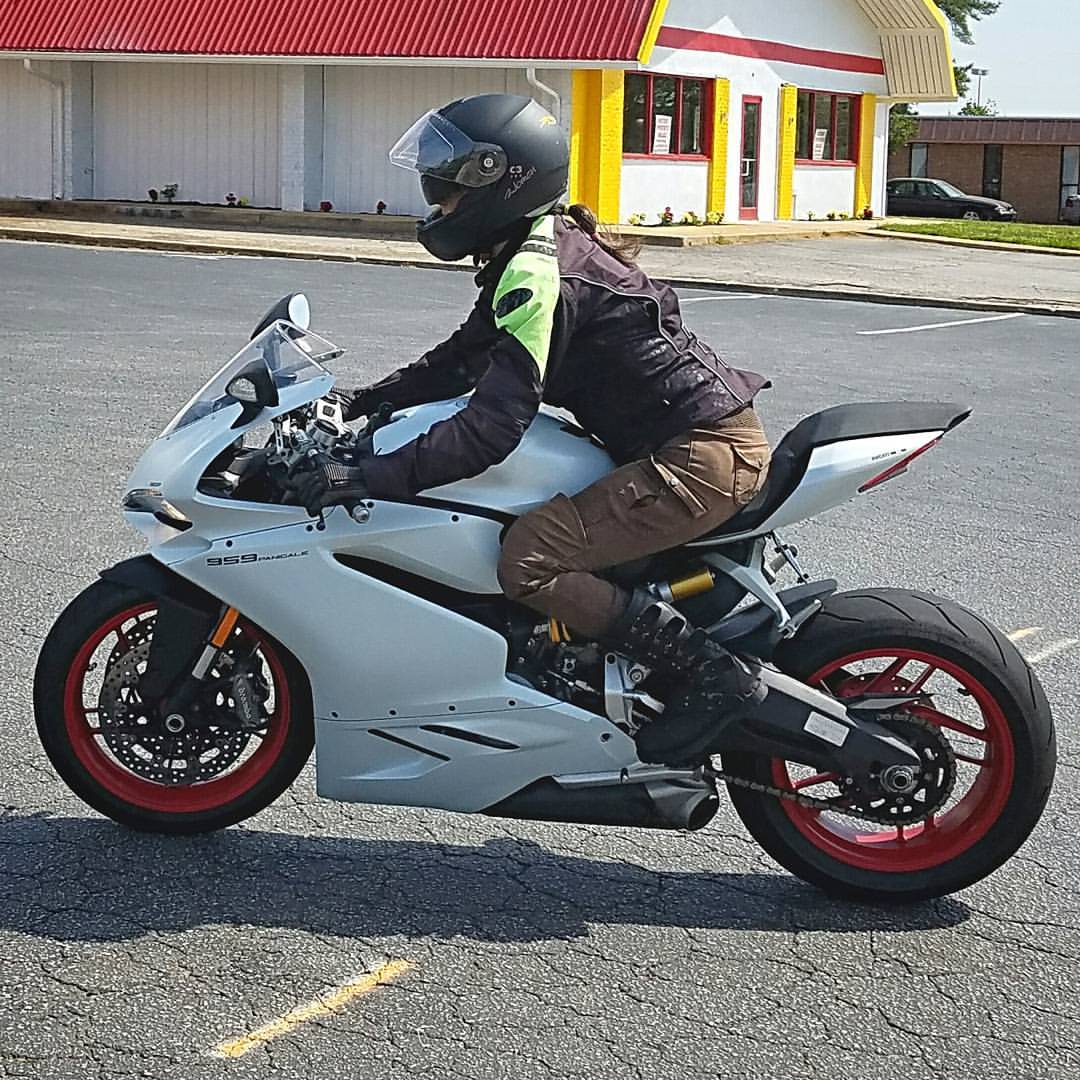 This whole thing – test riding other Ducatis –  started because my friend Michael practically wrestled me to the ground and forced me to ride his Panigale.
He'd ridden behind me a few times and determined that I am a stronger rider than I believed myself to be. Make no mistake, I do feel confident in my riding, but not so much that I have a false sense of bravado. It was truly a high honor and strong validator of my skills when he insisted on making me ride his incredible machine. Not gonna lie, I was scared at first. It was so much more machine than I was used to. But when I was done, it put a huge smile on my face and it got me to thinking: it's time I expanded my range of skills and possible motorcycle options.  The next weekend I headed off to my local Ducati dealer in search of enlightenment. After spending about 30 minutes each on two brand new 2017 Ducatis last Saturday, I've come away with a greater understanding about motorcycles in general and learned something valuable about myself in the process:
Motorcycle models are designed differently for a reason, and
I am a hell of a rider.
I've reached the 2nd anniversary of bringing my Scrambler Ducati Icon model home (lovingly dubbed the Falcon) and in the past 2 years I've put over 20,000 miles on it in a wide variety of conditions, both on road and off. It's been an incredible bike for me. I'm as in love with it today as I was the day I drove it off the lot, perhaps more so since we are now so intimately acquainted. But after my first test ride of the day on the new Scrambler Ducati Café Racer a light bulb went off in my head alerting me to the possibility that I have underestimated and undersold my own riding ability. Shortly after heading out on the Supersport S a little later I was practically banging my head and laughing because I finally fully grasped for the first time that I'm a much more accomplished rider than I had previously given myself credit for. AND I understood that I've literally been forcing my bike to perform maneuvers it was never designed to make with any kind of grace. It's obviously capable of corner carving at the speeds with which I tackle them but certainly not without a great deal of effort and manipulation on my part. But, like the bumblebee who has no idea that it's not supposed to be able to fly considering its design, I had no clue my bike is not supposed to flit around the twisties at high speeds alongside my more experienced fellow riders on R1s, GSX-Rs, Panigales and the like. I've just figured out how to make it work.
My sweet husband Neel, who is my main riding partner, has been signing my praises for a long time and I have poo-pooed him and downplayed his compliments because, while I feel like I'm a strong and intuitive rider, I wasn't ready to claim any sort of proficiency in the presence of our more experienced riding associates. I mean come on, how can a 50-year old woman who's only been riding motorcycles for 3 years, with her only formal training being 2 MSF courses and no track time, consider herself to have legit riding prowess? In the spirit of full disclosure, however; I am compelled to reveal that I'm an experienced and excellent rider – of horses! I grew up riding and breaking horses on a cattle farm. I rode barrels and other competitive gaming events and in general my ass has seen more time on the back of a horse than most people's asses will see in a lazy boy in a lifetime. And my ass has seen a lot of time on the ground from being unseated by a mistake in my reaction to, or misjudgment of, the next twisting buck of a young colt or by not paying attention to a perceived threat which might cause a horse to suddenly shy away. We had lots of horses to ride and by switching mounts often I felt that I became a better overall rider.  A person can appear to be a top rider on one horse, but if that's their only horse, they'll get lazy and complacent. That rider will learn that particular horse's habits and quirks and adapt to their way of going. But throw that rider on a different horse with different conformation and mannerisms, and you'll quickly find out if that rider has real skill or is in fact a one-trick pony themselves. To be a better horseman, a person must be able to sense subtle changes in their mount, observe upcoming obstacles, and make lightning fast and equally subtle changes to their body positioning to avoid a disaster or to simply elevate the quality of the ride in any particular situation. Not unlike riding a motorcycle.
I'd like to think that a lifetime of riding different horses has prepared me for the world of riding motorcycles. I seek to continually better my riding skills – with horses in my past and now, in motorcycling. Every ride is an opportunity to test and stretch my abilities or those of my mount; finding little maneuvers that work and revealing ones that don't. Even short trips to the store gives me opportunities to build on my foundation and practice things;  more time in the saddle hopefully translates to faster skill acquisition.
But I've spent 2 solid years on the same mount. I've only occasionally ridden a couple of other bikes, but not often enough for my liking. I've been worried I've gotten lazy and complacent even though I work hard at challenging myself on my Scrambler. When my local dealer got in a couple of demo models of interesting brand new bikes, I eagerly took advantage of the opportunity to ride them. I've sort of been thinking for a while that I need a second bike to handle the sport bike riding I like to pretend that mine does. Having another bike would save wear and tear on my Scrambler, which is set up perfectly for my long-distance riding on variable terrain, and I am at a point to which I feel I could give quality riding time to more than one bike. I know there is no one bike which is fully capable of peak performance in multiple riding disciplines, although, I must say that my Scrambler is as well suited to being a one-size-fits-all bike as just about anything out there is. If I could only have one bike, this is the one for me.  It does a variety of things quite well but can't really complete with style-specific bikes when pushed to their limits. So my search for a sport(ier) second bike commenced with a trip to Garcia Moto last weekend.
Scrambler Ducati Café Racer
First up on my agenda was a ride on the Scrambler Ducati Café Racer. This one seemed like the logical choice to ride first as I feel I'm more than qualified to sort out the subtle nuances that Ducati incorporated in the new model. To quote the words of my salesman and good friend Steve Rakes, it felt "intimately familiar yet seductively new". I had already done a bunch of homework on its specs and done a side-by-side comparison between it and my 2015 Icon so I had some head knowledge of the differences. At first glance it looks like the same bike with some cosmetic changes but if you dig into the finer details you'll see they've made seemingly small changes which effectively equates to significant changes in how the bike handles and performs. I discovered within a few blocks of driving off that the smaller front wheel, shorter rake, shorter trail, lower clip-ons, and higher seat, all combine to give this bike great advantages over the Icon for carving corners. This bike practically BEGS for an opportunity to dodge and weave. I hardly moved my butt out of the seat in the turns when taking some of my favorite twisty roads at the same speeds I normally ride. In comparison, I have to glide from side to side on my Icon, never really sitting down, and hanging off like a GP rider to sling it around tight turns at speed. Combine the more aggressive riding position, greater agility, and more user-friendly levers with the new fuel mapping and smooth-as-silk throttle response, and we have a wonderfully refreshing new animal in the Café Racer. It's so different that I could EASILY own this bike as my second ride regardless of the fact that it looks so much like my main ride. However, because of the more aggressive riding position, I wouldn't keep this bike as my #1 all around rider. I still enjoy having my Icon for that.
Ducati SuperSport S
Second up was the Ducati SuperSport S. While I had been marginally interested in it prior to riding the Café Racer, I was now only riding it as a matter of due diligence. I was THAT enamored with the Café! I don't have much sport bike experience so it was a little intimidating at first. But when I threw a leg over it and felt the (slightly) more upright position than say a Panigale or R1, I felt more at ease. In fact, just sitting on the SuperSport S without even moving felt very comfy and cozy. While the cockpit was gently spooning me, I fired it up and its purring motor whispered to me to drop into gear and go. I took it out around the same roads as the other ride (roads I'm intimately familiar with) and again, within blocks I could feel the differences between this bike, the Café, and my bike. I instantly fell in love with the way the tank and seat formed a cockpit to hold me securely in place.  And again, that smooth-as-silk throttle response which is so different from my clunky, on-off throttle, was a pure delight to roll on. BTW, I was in touring mode and kept it there – I can only wonder what race mode feels like. The S model comes equipped with a quick shifter which could spoil a person in no time. I acclimated to it so fast that had to keep reminding myself to pull in the clutch at stops! The Öhlins suspension is a highly coveted upgrade to the Scrambler suspension and boy did I feel it! Not a single bump threatened to unseat me. Speaking of which, in the turns I never once moved out of my seat to sling into a corner. It is THAT smooth and confidence inspiring. So much so, that several times I checked my speed thinking that I must have backed way off and must be only going 35 but in fact the speedo read 65. (I NOW get why my friends can go soooo much faster in the chicanes without looking like they're expending any effort at all. While they're seemingly putting through the turns I'm performing gymnastics just to keep up!!)  Many people have reviewed that they hate the digital bar tach, but I found it to be in the perfect position, just in my periphery so I never had to take my eyes off the road to check RPM- which I was doing often. I then took the SuperSport S on the highway to see how it performed there and it was nothing less than stellar in my opinion. I left the adjustable windscreen in its lowest position and was quite comfortable with the amount of wind blast but I should have raised it to the higher position to see how it felt. My bad. When I wheeled back into the dealership, I honestly was ready to plop down a deposit on it if it weren't for one major drawback: the inferno-like heat coming off the engine scorched my inner thighs. The heat was so blisteringly painful I was almost teary the whole ride! That was kind of a deal breaker and I'm not sure how to overcome the flame-thrower effect. The rest of the ride was so incredibly enjoyable though, so if anyone can offer a viable solution I might consider going into serious debt to buy the SuperSport S!
So, there you have it. Getting out of my comfort zone yielded valuable revelations about myself, my personal motorcycle, and the prospective ones I rode. That little exercise gave me a greater appreciation for, and inventory of, my current riding skills. Now I also understand more about how different motorcycles are supposed to perform according to their designed purpose. I'm making a vow to test ride many different brands and styles of motorcycles this year, as I feel much more confident in my ability to make an educated and informed decision!
Let the games begin!!!!
Please share your own experiences or recommendations!!
Details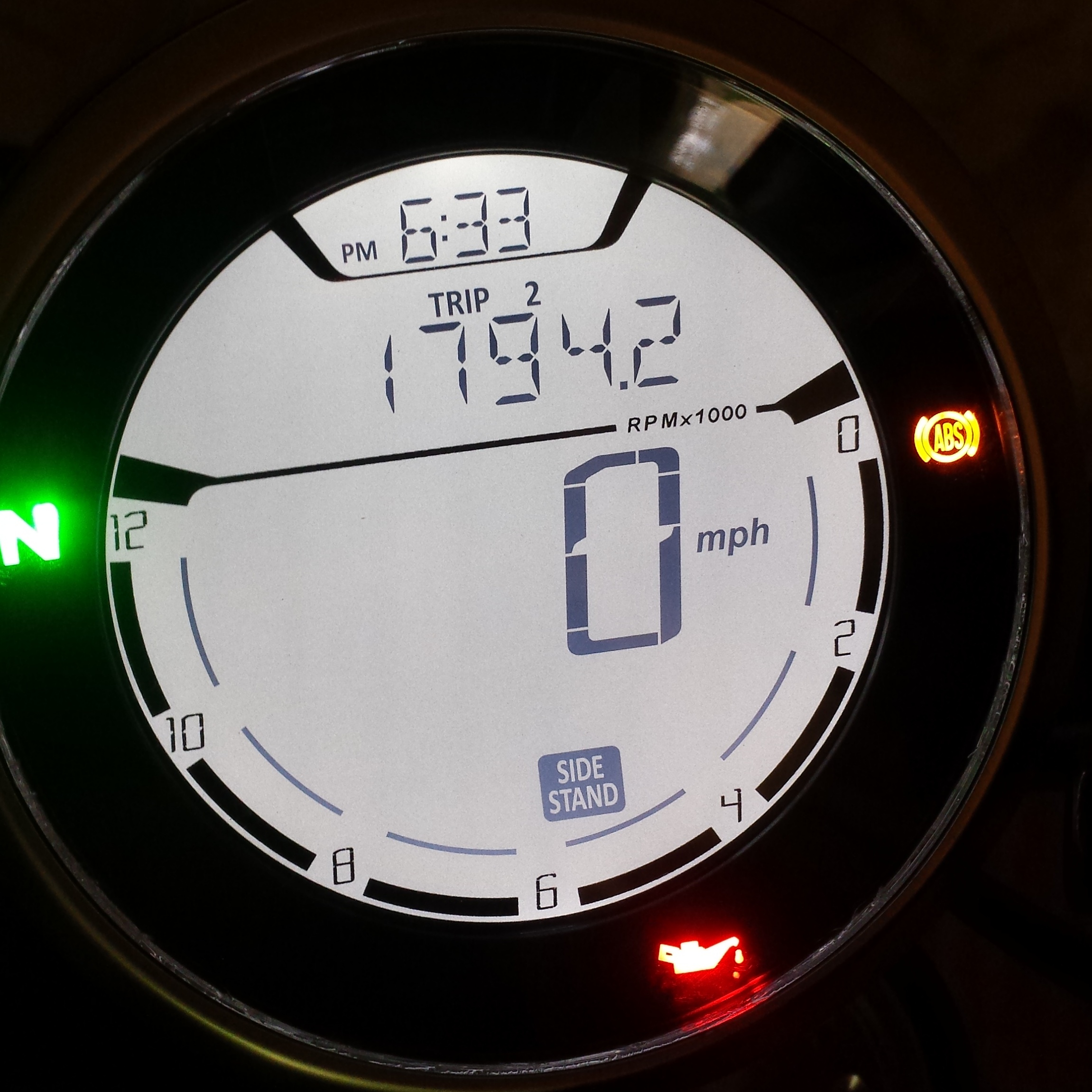 It sounds great when you say it like that , but all that stuff was luck – I didn't know what I was doing half the time, I didn't plan any of it, I just did whatever I could think of, and I nearly always had help –

~Harry Potter, The Order of the Phoenix
1794.2 miles later I successfully completed my journey (read Part 5 here) and picked up lots of tidbits of wisdom.
There's a lot to be said for taking a solo road trip on a motorcycle and there's a lot that cannot be said; some experiences must be, well… experienced. You have to live them, ponder them, and reflect upon them later with a wistful smile and nod of your head knowing that no matter how hard you try with your pictures, words and gestures you'll never be able to adequately relate your personal perception of all the (tangible or intangible) aspects of your journey. Despite the fact that I actually rode solo and completed my journey alone, I in fact, was given a great deal of assistance along the way and can in no way claim to be the independent warrior my escapades would lead you to believe I am. With this final installment of my 6-part blog, I'll do my best to wrap up my thoughts on what the journey meant for me, give you some practical information, and share accolades with the folks who deserve it.
Some pros and cons of solo road tripping:
PRO – Have it your way
You can plan as much or as little of your trip in advance as you feel comfortable doing. You aren't held captive by an anal partner who feels a complete itinerary with exact expected arrival times is the only way to prepare. If you're the free spirited adventurer type (me), you can loosely make a plan and then wing it as you like. Sometimes the most amazing memories are made from those unplanned, off-route adventures.
CON – Not enough forethought
On the other hand, if you're going all Wild West style (I don't need no stinking plan!), and you fail to leave yourself enough viable options you could find yourself in big trouble. And be all alone. What if you're in the boondocks and dump your bike and there's no one there to help you get it upright, or you have a mechanical failure or a medical emergency, or you find yourself in a less than friendly situation, etc.  AND there's no cell service so you can't even call for help. Yeah, a buddy sure would be helpful now…
PRO – Talking to strangers
I'm a people person; I love to hear people tell me their stories. As an actress, I pull from these folks' experiences when I need to use them in creating a similar character. There's no better place to hear real-life stories than from strangers you meet on the road. That dirty homeless looking guy? He's actually taking a break from his labor job to get some refreshment and has a loving wife and kids at home. That creepy guy with the backpack? He's on his own self-discovery pilgrimage and revels in the fact you took time out to listen to him. That stuck-up looking woman with the bratty kids waiting in line for the bathroom? She's escaping some personal demons and trying to give her children a nice vacation away from the drama. Every person you meet has a story and they are more than grateful to tell it to a sympathetic ear. You will be blessed and enriched for taking time out of your scheduled itinerary to inquire, listen, and acknowledge your fellow human beings.
CON – Crossing paths with unsavory characters
While I was completely blessed and had no dealings with such, I'm not unprepared or naive enough to think I couldn't be faced with a potentially dangerous confrontation. The Lord had his guardian angels working overtime for me and I never once felt the need to use my weapons (yes I had them – multiple ones stashed in multiple locations) to defend myself or the felt the urgent desire to flee. But those situations can and do occur on the road. No road partner means no one has your back – literally.
PRO – Pee breaks/leg stretches on your own timetable
Going it solo means you can take breaks when you want, for as long as you want, and you set your own pace because you are your own boss and the best judge of your capabilities. If you gotta pee – LIKE RIGHT NOW – you don't need to clear it with anyone while you do your best to keep your bladder from exploding; you just pull over when it's convenient for you and take as much time as you want – No toe-tapping impatient partner pushing you onward. OR if you want to keep riding through, you aren't stuck breaking your stride to pull off so your partner can stretch their legs while YOU now find yourself being the frustrated toe tapper.
CON – No one to share the memories
Not having a partner to share in the journey kind of sucks when days/months/years later you excitedly exclaim, "Remember that time… Oh wait, no, of course you don't…" as you hang your head and drop your shoulders with the dawning comprehension that your comrade wasn't there and they are sick of hearing you recount adventures they had no part of. ~Heavy sigh~
Planning, packing, and hindsight lessons:
I don't want to call this section advice. Advice makes it sound like I know what I'm doing. You're smart people, you think smart thoughts, and you haven't made it this far in life without being able to make critical decisions on your own. So here's list of some things I did that made my own ride better (or worse) in no particular order:
Helmet Hair – My Schuberth C3 Pro Women's helmet ROCKS! It really does, but there's no extra room in it for bunched up hair. I have long hair so I braid it to keep it from getting tangled in the wind (you know what I'm talking about – those wind knots that leave you crying in pain and considering just shaving your head rather than go through the torture of the de-tangle). Before I took this trip I experimented with different configurations for the most comfort, and lets face it, least hideous look when the helmet came off. Single french braid down the back, single dutch braid down the back, single regular braid down the back, two tight braids on either side, etc… Turns out, in order to avoid having my helmet drill into my forehead causing excruciating headaches within minutes to hours, leaving my hair completely down was the best option. This however was not a practical solution (tangles remember?) so I figured out that loose braiding (either single in the back or two pigtails) was the only way to go. I HATE a loose braid, but gosh darn it, it works for this application.
Food – I have lots of food intolerances and allergies so in addition to packing my bags with the necessary clothing/tools/gear, I have to make room for ALL of my food for as long as I think I'll be on the road. I cannot stop at a restaurant and grab something along the way. This adds to the prep time and weight and bulk of my bags, but I've gotten pretty creative over the years and know how to pack enough nutrients, calories, and liquids to last me for a very long time in as small a space as possible. (BTW, eggs are nature's perfect protein for a journey! If you hard boil them and leave them in their unbroken shells they can literally last for weeks without refrigeration.) Some of my medical issues require that I take in more salt than most people and my all-natural diet means that I do not get hardly any unless I make a point to add it to my food. Even if you don't need to do the same, do not underestimate the power of salt in your diet! Oops, I failed to pack any – absolutely none! On my return trip I happened to purchase a bag of fried pigskins (weird that I can eat those, but yes I can!) and it was while ravenously devouring them that I understood how much I had been lacking this precious compound. My foggy brain got clearer almost instantly and my body was better able to process the water I was drinking.
Comfortable Gear – As I talked about in Part 3, my knees took a beating from ill-fitting knee armor and continuing to ride while ignoring the pain actually created an unsafe situation. The day after I arrived at my folks' house I got right online and ordered some flexible Forcefield Net replacement armor for the return trip. BIG difference! Also, I didn't mention this before, but the day before I rode out, I purchased an in-helmet speaker system so that I could plug into my cellphone to listen to GPS turn-by-turn directions if I wanted to. It was a brilliant setup and worked great until 2 things happened: 1. my ears were squashed into the bars of my glasses and caused even more excruciating pain than the knee armor, and 2. having my phone running GPS for so long caused it to overheat and shut itself down to keep from exploding. Midway through day 2, realizing I knew the way and could check my GPS sporadically if I needed to, I ripped out those speakers and felt waves of relief spreading through my tender ears. I think a Bluetooth setup is in my future and well worth the expense.
Things you can't have too many of – Plastic grocery bags, ziplock bags, water, and paper towels. I found myself grateful each and every time I dug one of these items out of my bag. I can't even remember what I used them all for, so you'll just have to trust me and be sure to pack more of them than you think you'll need. With the exception of water, the other things squash down to an almost non-existent size, so you don't have to worry about taking up valuable real estate in your bags.
Products worth carrying – Chain lube, helmet shield cleaner, flip flops, spare gloves, and lock. I didn't need the spare gloves but I had them. Mine dried out enough on the road between rain bursts so that I didn't have soggy hands the whole time, but it sure would have been nice to put on a dry pair if I needed them. I also never used my cable lock on my bike, but if I had to spend the night in a questionable place I sure would have been glad to be able to lock my bike to something sturdy. Can you imagine coming out the next morning to find your ride had been stolen? I did, however, make good use of the other things. The chain lube was important since I went through lots of rain and wanted to keep my chain in tip-top condition, and the helmet shield cleaner (and paper towels – rags tended to smear) was a God-send. I use Plexus on my shield and it acts as a rain repellent in addition to cleaning the bugs, tar, and gunk off my shield. Get yourself a mini can and keep it on your bike! Also, having some sort of footwear besides the riding boots was pretty nice on my tootsies at the end of the day!
Places of interest – I'm not just talking about plotting out picturesque twisty roads, quaint villages, and roadside attractions. Those are valuable things to plan for to make the most of your journey for sure, but what I mean specifically here is knowing where your essential places are located. The two most important being gas stations (I needed to know where my last possible gas stop was before entering the Shenandoah National Park and exactly how much fuel I was likely to burn through before I got to the next fuel up) and possible lodging choices (I had multiple ones scoped out along with their contact information so if my plan A didn't work I had a few more options to burn through before I really had to wing it), and I carried an honest-to-God paper road atlas in my bag just in case my GPS failed and I needed to sort out my route.
Battery charging – Of all the amazing features on my Scrambler Ducati, I think the one I love the most is the on-board USB port. I NEVER have to worry about running out of charge on my phone. Having a charged cell phone could have meant the difference between life and death (as long as an emergency happened within range of cell signal or free Wi-Fi of course). The USB port on this bike only charges the device plugged into it as long as the motor is running meaning there's no chance of draining my bike battery by leaving a device plugged in. And speaking of battery charging, I always keep a charger with all the pertinent connections under my seat so if I happen to run into the situation where my bike battery fails, I could either jump it off another bike (NEVER off a car!) or plug it into an outlet to recharge.
Endurance and Stamina – I learned early on that taking short breaks more often was way more refreshing than trying to ride longer spells and take longer breaks. Even just getting off the bike, walking around for 30 seconds and getting back on was  enough to last me for another 45 minutes to an hour on the road. Getting stiff is your enemy – especially on demanding roads in rainy, cold, weather. Take time to eat, use the bathroom, drink, etc. Sounds like a no-brainer, but if you're like me, you can actually forget or ignore those signals from your body. My comfort and awareness was greatly enhanced by getting a little nourishment or having an empty bladder. And take your vitamins. I take lots of Vitamin C but, while on the road, knowing the added stress my body would be under, I made a point to pop several more than I normally would throughout my day. I didn't get sick once and for those who know me, you know what an accomplishment (and testament to my diet/exercise plan) this was.
Final musings:
I've likened my trip to zombie hunting and by now you know I didn't actually get to slay any real-life ones along the way. That's not to say that I didn't meet any un-dead creatures waiting in ambush or tearing after me in hot pursuit, metaphorically speaking anyway. Anything can be a zombie. Walkers, like the classic style zombies (Night of the Living Dead, Walking Dead, or my personal fav Shaun of the Dead) come at you slow, stumbling, and relentless so that it's easy to dismiss their real danger until it's almost too late. Runners are more like the modern style zombies (Dawn of the Dead,  Zombieland, or 28 Days Later) who rush at you in hyper speed and there's no time to formulate or debate your attack plan. For me, my zombies came at me in the form of physical pain, sudden bad weather, emotionally resounding memories, obstacles in the road, other (stupid) motorists, and all around endurance testing. Some of those zombies were walkers and others were runners, but all of them were real enough to me and they served a valid purpose of keeping me on my toes and mentally alert. You cannot ride for 8-10 hours at a stretch and allow your body or mind to be lulled into complacency. That's when accidents happen and shit gets real. On a motorcycle, I learned the zombies are always out there, waiting for you to drop your guard. Constant vigilance!
(Thank you Professor Moody for those two little words of wisdom!)
When I initially set out to ride to NY it was simply for the fun of riding. But through the process of planning, preparing, testing, and doing, I learned an awful lot and self-discovery was inevitable. I might have expected to stumble upon a few things on such a journey. Things like "damn, my pack job was great", and "next time I won't wear X article of gear/clothing", or "holy cow I'm a better rider than I thought I was", or "crap, I'm not that good of a rider". But I also gained personal insight into my physical and mental strengths and weaknesses, my ability (or inability) to quickly recognize, process, and take action in the face of dangerous situations, my unexpected visceral emotional responses to people, places, and things, and how well (or not) I was able to keep a level head and ride through adversity, and most poignantly, how much I simultaneously absolutely loved being alone and despised not having my husband with me to share in the experience.
Thank yous:
My blog wouldn't be complete without recognizing that, like Harry Potter, I didn't do this alone even though it was a solo adventure. I almost always had help! I would like to thank the following people, products, and companies who helped make this journey not only possible, but immensely enjoyable. Each of you helped in your own special way whether you realize it or not and I'm grateful for your advice, assistance, motivation, inspiration, kindness, and prayer.
My husband, Neel Guest
The Flying Vs
My crazy, lovable family, but especially my parents and my brother
All the random bikers and friendly people at every gas station break
Tequila, specifically Lunazul Primero and Milagro Añejo
And most of all, Jesus Christ – without the Lord's help, grace, and mercy in everything, I would be lost!
But the fun doesn't end here! Stay tuned faithful followers, another exciting adventure is on its way – Zombies aren't the only villain in Hitgirl's sights! There's a certain Dragon taking up in residence in the Great Smoky Mountains calling my name. Superheros are always on duty and sometimes it's not pretty….
Details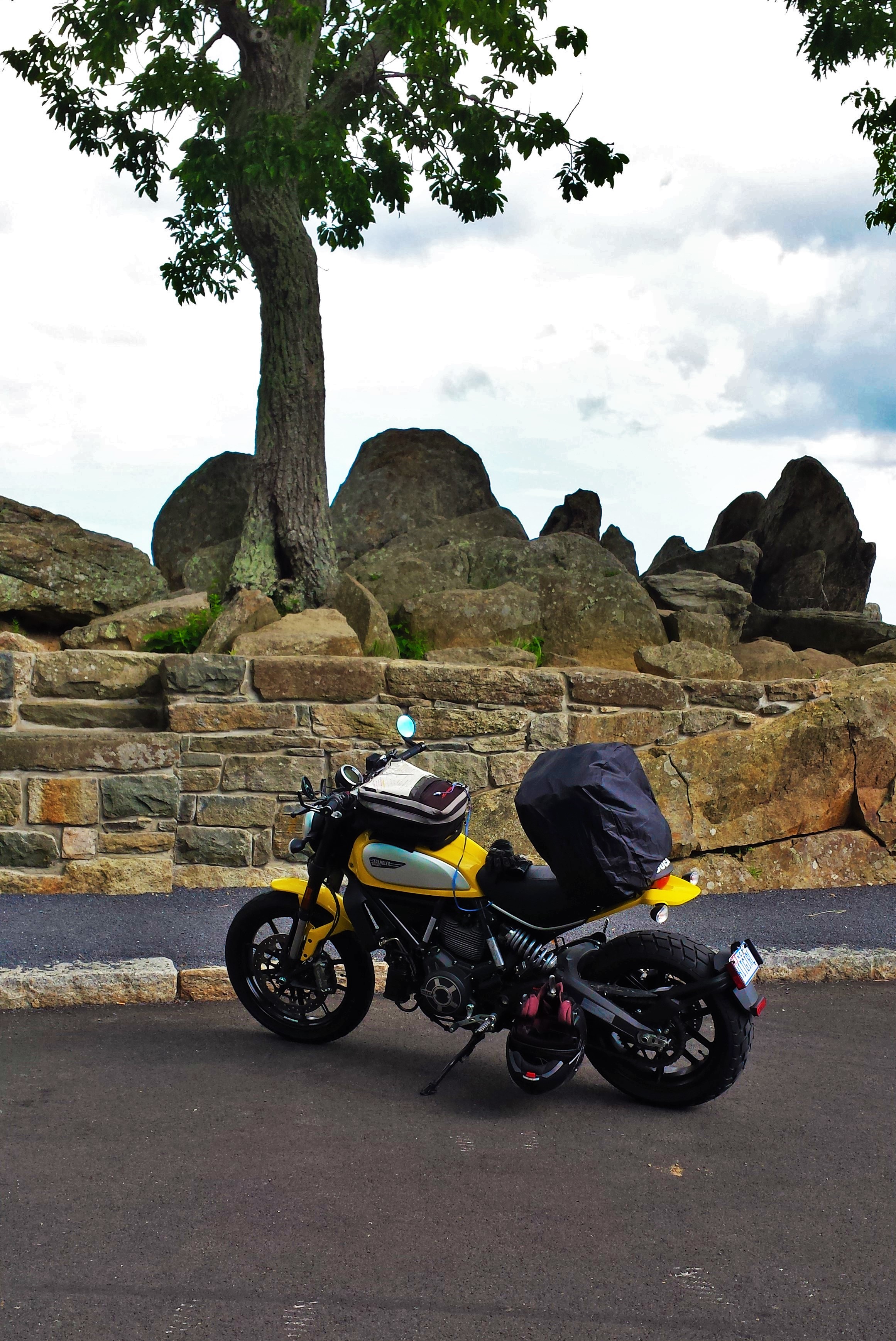 From baby steps to a big adventure
A little over a year ago I took my first ever tentative ride on a 250 cc motorcycle. Wobbly and scared, I slowly let out the clutch and rolled on the throttle while my encouraging husband nearly exploded with pride like a daddy watching his child ride a bicycle for the first time.
Giddy with excitement myself, but tempered with a healthy dose of respect, I embraced what became a motorcycle obsession with fervor and within a month I took the Motorcycle Safety Foundation Basic Rider's Course (MSF BRC), obtained my full endorsement, and conquered some long-standing childhood fears. After attaining a little more intuitive dexterity in manipulating the levers and controls, a forgotten voice in my head whispered, you were born to ride. Growing up on horseback (almost quite literally) I already knew that riding was akin to flying and as natural as breathing for me, but it was an intoxicating surprise to find that my passion and natural inclination transferred seamlessly to a machine-driven beast.
In short order, I began the hunt for my next bike, a bigger one. After months of searching and researching and agonizing and dissecting what MY riding style is (or will be) and what sort of bike lit my fire, I was left with a ho-hum attitude and a feeling that nothing in particular filled that bike-shaped hole in my heart. And then one day while randomly scrolling through Facebook posts, I saw a silhouetted head-on image of the new Scrambler Ducati about to be unveiled at the impending 2014 Intermot show in Germany.  Ah-ha!! I had at last found my personal Holy Grail without even a shred of info about its specs or a real picture of it. Two days after the actual reveal I put a deposit on one at Garcia Moto then endured seven long months of (sort of) patient waiting and pouring over every scrap I could find on the internet before the Falcon, as she would come to be called, would be mine. Why the Falcon you ask? Because upon downshifting she sounds EXACTLY like the Millennium Falcon when it can't make the jump to hyperspace:
Without the teensiest bit of buyers remorse, I was pleased to find that the Scrambler was everything I'd dreamed she would be and oh, so much more! So what's a girl to do with just a year's worth of riding experience (10 thousand miles!) under her belt and a brand new 803 cc bike in her possession? Why, take a solo road trip adventure of course! Every summer for 18 years I've traveled from North Carolina to upstate New York to visit my family and friends back home. This year I vowed to RIDE the nearly 1200 mile round trip journey plus rack up some scenic miles in the beautiful mountainous regions of upstate NY and northern Pennsylvania.
The Falcon needed only a couple of modifications for my purpose. I simply had to have lower handlebars for my personal comfort (and aesthetics) so I purchased a set of superbike bars from Dime City Cycles and enlisted my buddy William Vaughn at DMC Motorsports to put them on. Then I quickly figured out that I needed something to secure my tail bag straps to and found a handy DIY solution from a fellow Scrambler owner on one of the forums. And that's about it. The bike itself is a handling dream and with an on-board USB port I never have to worry about losing charge on my cell phone (which BTW, I used quite often to check my GPS to ensure I was either on track or to make diversions). THAT alone is worth its  weight in gold let me assure you!
With the major-ish mods out of the way, I focused my efforts on planning routes, plotting sites, purchasing gear, and picking apart every little detail I could think of as I counted down the days to my journey. Among my trip specific purchases were a Schuberth C3 Pro Women's helmet and an Olympia Horizon rain jacket and pants, BOTH of which proved to be more than worth their expense and lived up to every review I'd read about them! I logged tons of miles on day trips and took a small overnight ride with my husband in an effort to appraise the best configuration of my set-up and gauge my stamina. I picked the brains of fellow road trip warriors and scoured the internet for advice. I planned and packed for every possible scenario (and my pack job, by the way, turned out to be brilliant as a result of all the time I spent visualizing and thinking through the placement/purpose of every little item). A week before I set out, I took and passed the MSF Experienced Rider Course so I was refreshed on my riding skills and knowledge. And in the event of a breakdown (assuming of course I had cell service) I had my trusty AAA card ready because, as my dear friend Johann Keyser of Moto Motivo told me in his suave South African accent, "There is nothing on this bike you will be able to repair." Then he smiled and told me I would be fine with the basic tools and gave me a cheery send off. Even the world famous adventure rider Neale Bayly was kind enough to impart some good advice to me, "Don't forget to stay loose, don't grip the bars too tight, and have fun," to which he sprinkled humorous (albeit, potentially valid) suggestions of items to pack.
Finally, after all the analyzation, preparation, and anticipation, the day of action arrived as determined by the best – or rather, least horrible – weather forecast. Ready or not, it was time to throw caution to the wind, load up the Falcon and hit the road.
Details