Tag archive: Asheville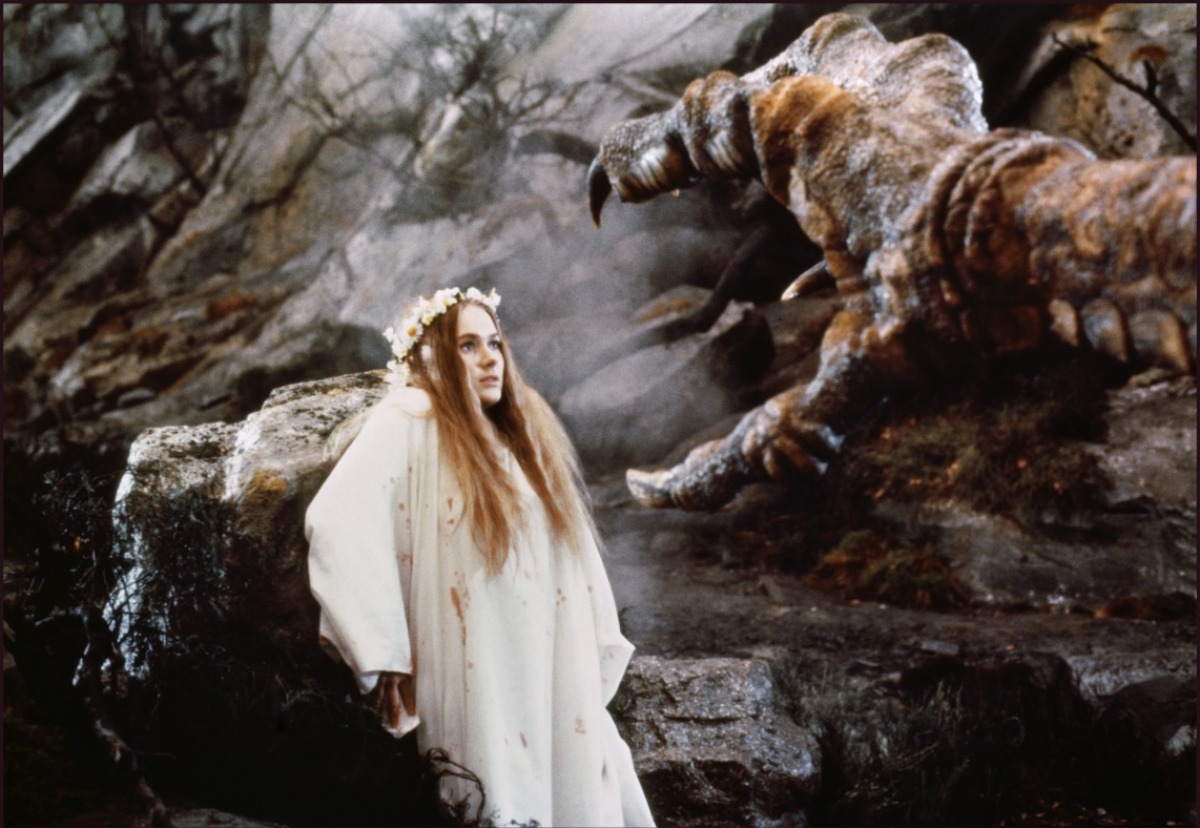 Heroes are born from adversity
Being extremely organized (not OCD!), I was up early to consider my needs and re-pack my provisions for the day. I would need some basic items like food, water, and rain gear but not all my clothing and toiletries. I could forego the unwieldy (and obnoxious) tail bag if I carefully filled the precious space in my tank bag – NOT that I wanted to carry that ugly thing either, but a full day's ride meant I needed to pack like a prepper. My buddy Greig Hochreiter (of Devolve Moto) had assembled a fine team of superheroes to mount an assault on the winged, fire-breathing beast slumbering in the mountains so my partner David and I were obligated to arrive with a complete arsenal of weapons of our own. Feeling satisfied that all was in order, I got dressed and strolled downstairs with all my gear in hand. We ate a leisurely breakfast and killed time chatting with our gracious hosts until the riders up call was sounded. Our meetup was at high noon in Bryson City, about an hour and twenty minutes west of our current location, so if we left at 10 AM we would have plenty of time to get there and dally along the way. While David was outside checking the oil in his bike, I frittered away some time playing with Charlie, who was intent on ferociously shaking and "killing" her favorite toy: a dragon no less.
I contented myself with a cursory T-CLOCS inspection not being overly concerned as the Falcon is practically brand new and it was in fine shape last night when I kissed her goodnight. Eh, it all looks the same as ever – turn signals work, brake lights work, nothing puncturing the tires, oil is good, hey is that a little bubble in my brake fluid reservoir? Nah, it's probably always looked like that. Well OK then, all good to go! We mounted up and launched off down the ski jump driveway. Wheeeeee … hmmm, do my brakes feel funny? Well, that was a heck of a hill we just came down; I probably had to squeeze the lever harder than normal to stop …  I'm sure it's my imagination … Gee, I don't remember David's bike smelling like that yesterday … Is that smoke? OK, yes, that is most definitely a huge plume of black smoke. What in the WORLD??? By now I'd figured out there's something seriously wrong with his moto which is blowing oil like the Exxon Valdez. I backed waaaaaay off to keep from getting splattered and choked to death by the geyser spewing forth from his bike but I had to find a way to get him to stop. Fortunately at the next intersection as I wheeled up to him frantically trying to get his attention he had figured out there was a problem, especially seeing as his right pant leg, now sopping wet with oil was the only thing stemming the gushing tide of black gold.  A look down and – DOH – he had forgotten to replace the oil cap.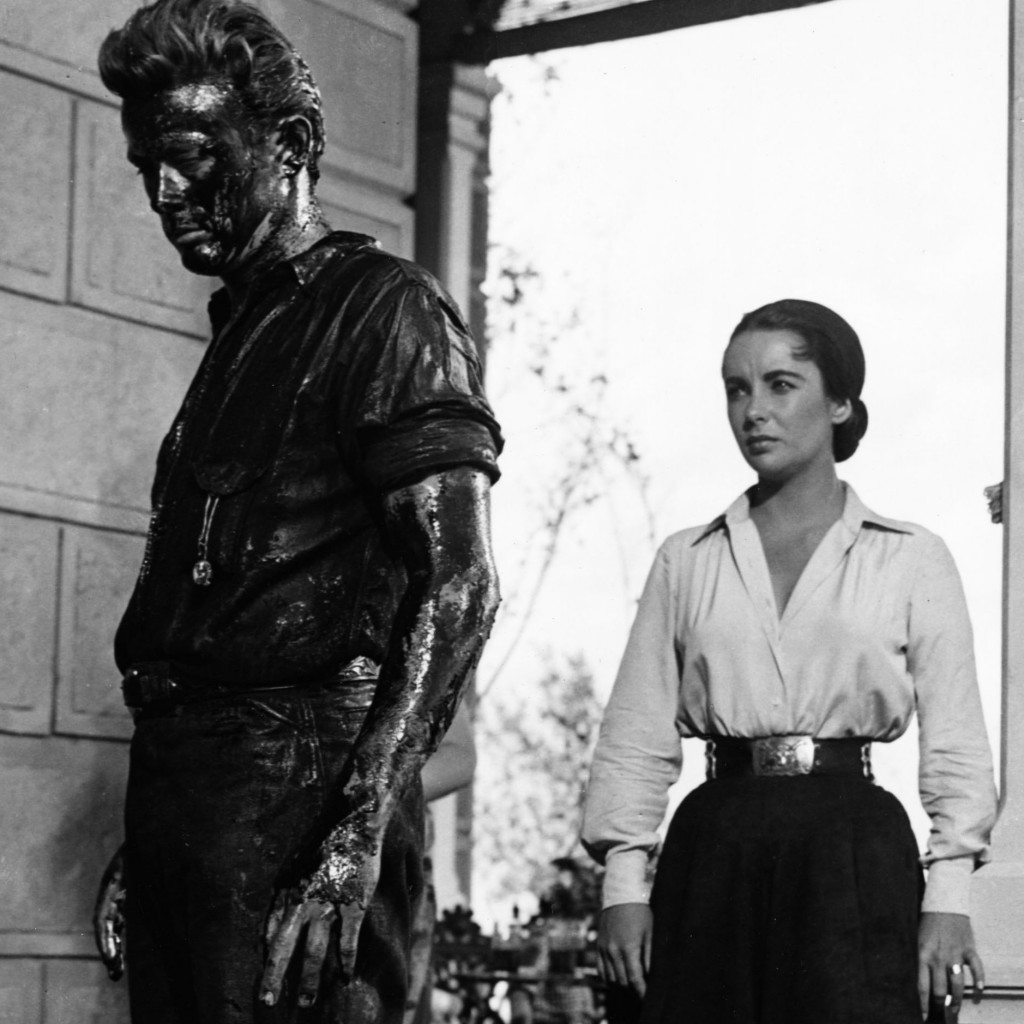 <Deep sigh>. Back to square one we went. While David got busy hosing down his now slick and glistening motorcycle, Michael, kindly went to the store to buy him more oil. Have I mentioned that our hosts are the most gracious people EVER??!! With our early head start blown, instead of killing time, now we were going to be late. We texted Greig and he was running behind too so no worries, we were OK. For real? Whew, dodged a bullet there. I shook off the anxious feeling that this was a bad sign.
An hour and a half later, bike and man were good as new and here we go down the ski jump again…. Uh-oh, I am NOT imagining it, my brakes feel really spongy.  Ignore, ignore ignore, lets just get on down the road. Um… that bubble in the reservoir is most definitely getting bigger – it's like taking up half the tank now. UGH, I do NOT want to deal with another delay, especially one that requires a mechanic to fix. CRAP,  I can't ignore this any longer. So I blew David off on the highway and took the next exit knowing he'd follow. We pulled into a gas station and inspected the situation. There was indeed a leak and you could see fluid spurting out the bottom banjo bolt with every squeeze of the brake lever. It was nothing we could fix ourselves so now I had to face the fact that I had a real problem. My hopes for meeting the guys and riding the Dragon were dashed. I was just praying I could locate a motorcycle shop that could take me in on the fly at noon on a Saturday and patch me up good enough to get back home. If not, I figured I might be able to buy some brake fluid and keep refilling the reservoir as it leaked out and at least limp home praying nothing broke loose for real and left me with no brakes at all. "Go on without me, I'll only hold you back – Save yourself" I dramatically cried and offered myself up sacrificially like the damsel in distress whose twisted ankle struck her down amidst a zombie horde hungrily clawing at her legs. Or maybe it more like a stoic admission that I was doomed but there was no reason he couldn't at least accomplish what we set out to do – someone has to survive to slay that dragon!! AVENGE ME….. (Hey, it's my story – there's room for zombies, Vermithrax, and Wolverines.)
But in true loyal, hero fashion, David refused that notion outright and stuck by me. He was magnanimous enough to accept that if nothing else, we had an adventure in just getting this far. Another text to Greig to tell him that I had a breakdown and we probably couldn't make it at all was answered by, "Get it fixed and hit the road, we'll wait." ARE YOU KIDDING ME? These are some patient and good-hearted fellows I'm surrounded with! Feeling emboldened, I started Google searching for motorcycle shops on my phone. The first shop that came up was the one I called: MR Motorcycle in Asheville. They are not a Ducati dealer, but after explaining my symptoms it seemed like something they could repair and they could get me in immediately. Thank you Jesus again! It was only 6 or 7 miles away and as long as there weren't too many stops I could manage by engine braking – I do that most of the time anyway, which is why my leak probably didn't show itself more than it did before now. Pulling into their lot was a bit like pulling into Motorcycle Mecca. They had a separate building for service and their showroom eclipsed anything I'd ever seen at least in regards to non-Harley shops. Jason in service was kind and easy to work with and Tex, the mechanic was incredible!! He finished his lunch early so he could get me fixed up. While we waited we strolled through the showroom in what I called the Candy Store. OMG they have EVERYTHING… I want one of those, one of those, two of those… I honestly wasn't too disappointed to be stuck there, but my bank account might have suffered irreparable damage if we  lingered too long. Fortunately the guys were quick and efficient and got us out in no time. And yet there it was again – that nagging feeling this was another bad sign …
By now it was well after noon and we hadn't eaten since breakfast. There was a little bar/restaurant nearby so we swung in there to regroup and refuel. Upon leaving we had to wait on a little uphill incline before we could jump out into 2 lanes of fast moving traffic to our right. We waited forever it seemed and finally David settled on a wide enough gap in the oncoming cars to make his move. I released the clutch to fall in and BAM! In a blink of an eye the Falcon and I were suddenly and savagely slammed to the ground. She had bucked me off like a bronco stung by a bee in the belly. Who the? What the? How the? My elbow was in immense pain and I was lying in the middle of a street with a 400 lb motorcycle on me, so I couldn't take time to ponder how we got there. I had to get my horse back on her feet – NOW. I tried the backwards lift thingy I'd seen demonstrated on videos, but holy cow, that's not as easy as they make it look. I got her about up to my calves and was about to go for another heave when a red Jeep Wrangler came screeching in behind me. The guy jumped out, picked my bike up like it was a 10 speed and asked if I was OK. I told him I was fine and before I could hardly thank him, he and his girl sped off out of sight. Thank you Jesus for sending angels to my rescue yet again.
Right about now, David had figured out that I'm not in his mirrors so he's thinking there might be something amiss. Ah, there he is, I knew he wouldn't leave me. After a U-turn, he arrived on the scene and was clearly shocked to find me standing next to my bike and not on it. He took charge and calmly helped me to a nearby parking lot and I tried to make sense of what in the hell just happened. I could feel my wobbly, adrenaline filled muscles begging me to just sit down quietly but my elbow was screaming in pain and I was torn between crying like a little girl and kicking the ever living shit out of something. I opted instead for objectively assessing the damage to my body and the Falcon before giving any more thought to why or how it happened. I took off my jacket and made a visual inspection of my right arm. Oooh, that's gonna leave a mark.
I'm pretty tough though and have survived much worse (like my horse brutally breaking my nose with the back of her head causing a fountain of blood to spew down my front as I tumbled to the ground writhing in pain. Not once, mind you, but on three separate occasions). My current injury wasn't that gruesome and nothing appeared to be broken or in need of stitches, so while this was going be sucky, it was far from sidelining. The Falcon suffered only minor, superficial injuries: the tip of the brake lever snapped off (no big deal, my hunny had already ordered me hot new sporty, shorty racing levers for my birthday!!), the right mirror was scraped up and loose but fully functioning with a little tightening, and there was a scuff on the muffler cover. Like every warrior, my Falcon obtained some battle scars to add to her character and charm. I could live with this.
Unlike the earlier brake line failure or great Gulf oil spill, there was no blame to pin on another party for this setback; it was all on stupid me – on soooo many levels.
First, I chose my riding attire based upon two things – warmth and looks. It was easy to justify: It's chilly in the mountains and I should be wearing my warmest gear, and, everyone knows you're going to get some cool professional pics while riding the Dragon, so I should be sporting my best Fonzie leather look, duh. Buuuuut this is my only jacket without elbow armor. — Oh believe me, I mulled that over before I left my home and still went with that choice anyway. I even mentioned my misgivings about lacking those crucial pieces of protection to Michael, David, and Wendy before leaving the mountain side retreat this morning. Karma??
And second, the Falcon didn't just decide to violently throw us both into the pavement. Nope. I popped the clutch and stalled her. BTW, stalling an 803 cc Ducati is nothing like stalling my little 250 cc Suzuki.  Not.  Even.  Close.  And why did I pop that clutch? My only defense is that I was holding it in the friction zone to keep from rolling backwards on that little incline and I needed to be able to gas it and go when a sliver of an opportunity presented itself. I didn't reckon on sitting there so long though. I guess I just forgot where my hand was and when I let it go it was already so far out that the little bit of throttle I rolled on wasn't nearly enough. As my dear, dear friend Pastor Jim Gillespie always says, "more throttle." Apparently there's no problem big enough that more throttle can't fix; so far in my experience he's been spot on with that advice. <Bigger Deep Sigh>
So just how thick did we have to be? There was no mistaking it now, this was surely a sign from God telling us to just turn tail and skip the ride altogether. The day was getting on and we still had 3 hours to go just to get to the base of the Dragon, then we had to somehow survive that storied monster, and ride back to Asheville the same night. How many more demons could we withstand? It seemed insurmountable.
Hold on a minute – – I'm not a sacrificial maiden. And I'm not a quitter dammit – even when I should be. David isn't either, God bless him. So with all the resolve we could muster we beat a path to Bryson City where our cohorts were (not so much now) patiently waiting for our arrival. We had a beast to tame and wussing out was not an option!
The final chapter is about to unfold.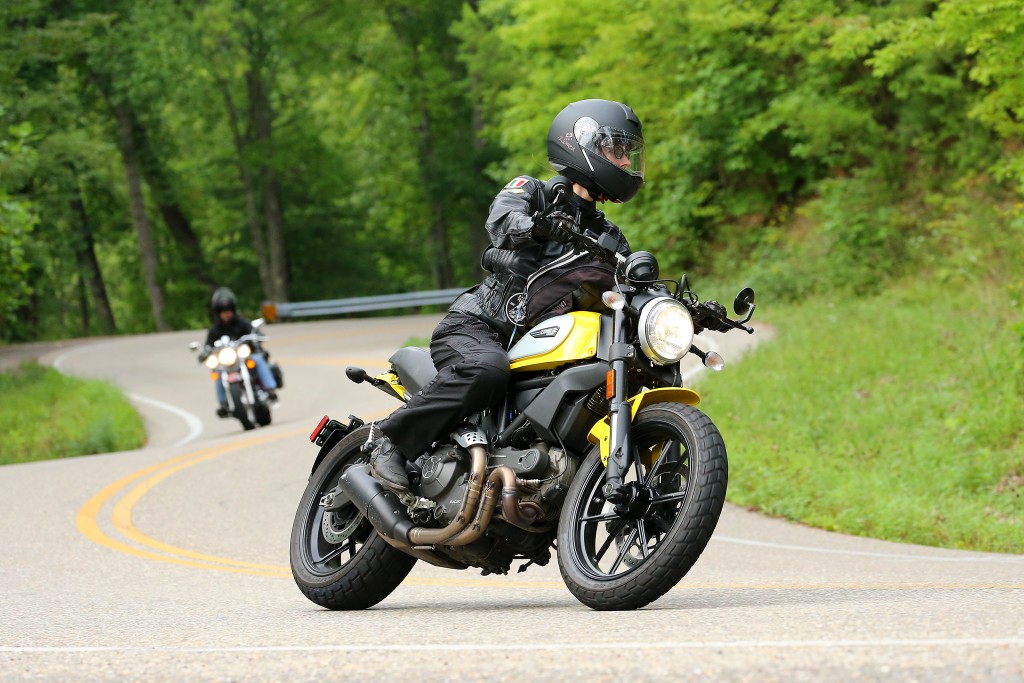 Details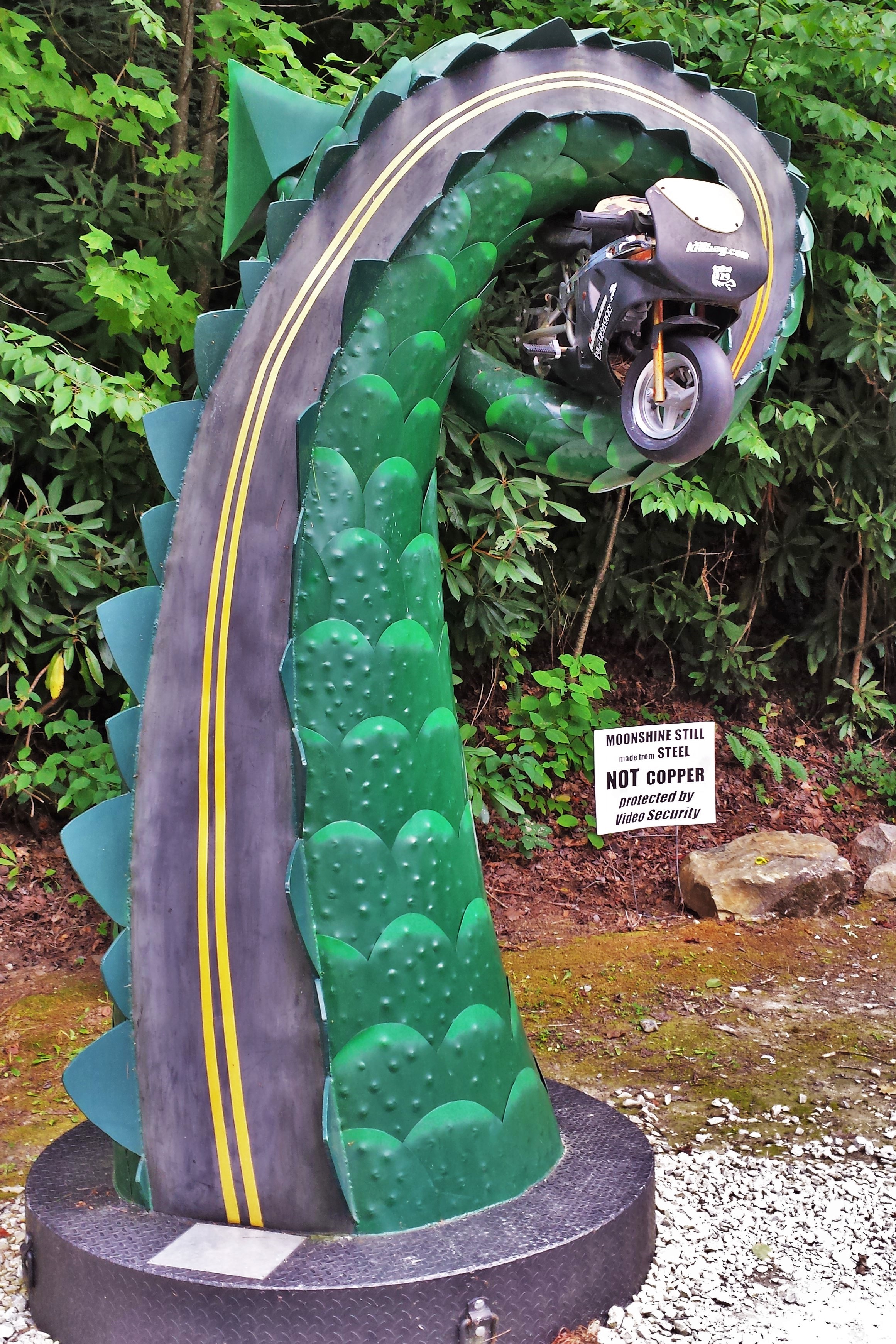 Hitgirl meets a worthy adversary
It was 6 PM or so on a Thursday evening when I saw a Facebook post from my friend Greig Hochreiter of Devolve Moto looking for folks interested in meeting up for a ride on Saturday. No big deal, just a little jaunt through the western Carolina mountains culminating in a saunter down a widely known and well traveled country road which promised splendid views and exciting curves. Sounds like a perfect afternoon excursion right? Except that the starting point was 6 hours away. And the country road? It was another 3 hours farther and is none other than the infamous Tail of the Dragon which winds though the Great Smoky Mountains in Tennessee!  What's that? You've never heard of this not-so-mythical beast? Let me enlighten you:
"Sure, I'm in!" I enthusiastically (and hastily) answered up. Then it hit me that in order to arrive at the meetup time I would have to ride most of the day on Friday to get there AND I would need to stay the night on Saturday AND I would need all of Sunday to ride home. Very quickly, an impromptu little ride had turned into a 3 day mini vacation with all kinds of expenses. Oops. I'm nothing if not impulsive. I called my husband and asked if he wanted to go, but he couldn't get the time off work and he so kindly gave me his blessing to go it alone. I googled lodging choices as fast as I could and called what appeared to be a good one. My skill (luck) in picking out decent places was getting a workout lately. I made my reservations then I ripped off a short email apologizing to my co-workers for the sudden notice, but I would be out of the office and unavailable until Monday. Then I ran to the grocery store to load up on supplies, came home, boiled some eggs and organized the chuck wagon. Before I can hardly get the grime off my gear from the last road trip, I'm repacking for the next one. I didn't have time to wash any specific clothes but fortunately most of my intended garments were already clean and fresh, so right before bed I quickly and carefully packed my tailbag.
The next morning, while going through emails and taking care of last minute work items online my good friend and fellow filmmaker, David Aman (he shot and edited our hilarious JDRF Egg Crack Challenge video) hit me up and asked me if I was going on the ride. He had just found out about it but thought he could make quick (REAL quick) arrangements and go too, and if I could wait for him we could ride together. I was happy to do that. It would be nice to have a partner on a long ride for a change. Fortunately for us, both David's wife Wendy and my husband Neel are secure spouses who understand that our partnership only extends to film making and traveling. When I met up with David in Durham, he asked me where I was staying and offered me a place to sleep at his friends' house in Asheville where he was going, saying that he'd already cleared it with them and I was welcome. I didn't think I could get out of my reservation so late but I gave it a shot because I would love to save on that expense. I called and they let me off the hook with no penalties or charges. Yippee! Now I was on the road to an unknown destination. I smell another adventure….
Speaking of smell, I'm not really a clean freak (if you've been to my house you are nodding your head) but I have my weirdnesses like anyone. I don't mind sleeping in a barn, in a horse trailer, or under the stars on the ground, but I have an aversion to sleeping in a stranger's house. I'm not so much a germophobe as I am a smellophobe. I have an extremely sensitive olfactory organ, so much so, that I've bandied about taking up a career as a drug sniffing dog (don't laugh, I can smell your weed a mile away even in a lead container buried in a landfill). And speaking of dogs, do these people have a pack of smelly, mangy curs who want to bowl me over and sleep in my bed? Do they even know what that toilet brush is used for? Do I dare sit on that couch (ew, what are those stains)? I should have been concerned about the ferocity of the Dragon and my ability to endure 3 days of riding, but noooo, my mind was now occupied with horrific thoughts of sleeping on a filthy mattress and sharing a bio-hazardous bathroom. My inner delicate diva was having a serious cat fight with my outwardly badass persona.
Kind of like a cage match between
Scarlett O'hara and Sarah Connor.
Other than my private anxiety regarding my (surely) dubious accommodations, we had an extremely enjoyable, if not monotonous, ride on Friday. It got a bit dicey, however, the closer we got to Asheville in the mountains. It begin raining enough to cause us to pull over and put on rain gear on the side of the highway and the traffic was simply dreadful. Oh, and the highway in that area was under construction to boot. Lots of cones, barrels, lane shifts and those diagonal rut-like grooves in the road that cause your motorcycle tires to track them right into the concrete barrier if you're not careful. I found out later that the traffic snarls were mainly a result of college dorm move-in weekend for all the big schools in the vicinity like UNC Ashville and Western Carolina. So there we were, right smack dab in the middle of Hormonal Highway in the pouring rain, dodging construction obstacles surrounded by lane hopping minivans laden down with ALL the essential college survival gear (kitchen sink anyone?) carrying pimply faced passengers in high hopes of encountering the opposite sex without supervision, moms who can barely keep their emotions in check as they verbally vomit every life instruction ever to their eye-rolling fledgling, and piloted by white-knucked, exasperated dads who know better than to say anything to anyone. David, who was wearing a Bluetooth unit on his helmet, was getting audible GPS turn-by-turn directions in his ear so he had just enough time to adjust his course to the next lane or exit ramp as needed, but I did not, so I stuck to his back tire like a sticky booger you can't flick off your finger and watched for any indication he was going to make a move while keeping my eyes peeled for other drivers making an un-signaled dart into my lane. All of this was a bit unnerving, but oddly exciting too. Just another day in paradise…
We finally got off the highway and began the hunt for the dwelling of these so-called friends of David's. The winding country roads were just what the doctor ordered after 6 or so hours of highway nonsense. Ah, Asheville, what a stunning locale – when you can look at it properly instead of scanning for an unobstructed path of travel that is. I've never been here before so it was a treat to get to see it on a motorcycle. Pretty soon we were well out in the country weaving down rural roads. "Ooh look, there's a field full of wild turkeys, and look over there, a herd of deer. Oh right, he can't hear me – I don't have a Bluetooth system in my helmet. Oh well, I'll have to remember to ask him if he saw them. Hey wait….just how far out are we going? Do I hear banjos???" Yeah, those were some of the thoughts rolling around up there in my attic.
After a brief stop and phone call to verify our location and get final directions we approached the entrance to a GATED COMMUNITY on the side of a mountain and were met by our lovely hostess Wendy (don't get confused – not David's wife – this is another Wendy, but not Peter Pan's Wendy – another one). You heard right folks, it appeared that we were headed to an honest-to-God palace – not a rundown, leaky shack with a thatch roof and flea-bitten mongrels slobbering on me. Thank you Jesus! Wendy informed us that she had a very steep driveway so be prepared. Yeah, I've seen steep, you're not gonna surprise me, I thought. The gate slid open and onward and upward we rode into a most magnificent neighborhood of homes complete with a country club and golf course. The roads were so narrow, twisty, and steep that the center line was more of a guideline to keep you on them rather than a divider between lanes. In fact, the roads were almost single lane width and there were no guardrails protecting anyone from plunging down the mountainside and no reflectors or lights in place to help you even see the road. Which wasn't a problem as it was still daylight….now. It was a fabulous ride to get to our hosts' home. And then the driveway suddenly loomed up out of the earth in front of me like Godzilla rising from the ocean. Did she say steep? She was being modest; she meant VERTICAL!! Not even exaggerating. Think ski-jump ramp. I waited until she made it up in her car and David made it up on his bike, and then I held my breath, gunned it and flew up it to the top all Robbie Maddison Las Vegas style. (C'mon, it's only a minute and a half long – you know you want to click this video and honestly you only need to see the first 11 seconds.)
"Hot diggity dog, that was fun! Let's do it again!" I thought after I quelled my fibrillating heart. Upon removing my helmet and getting a better look at my residence for the weekend I could see that the appearance of civilization wasn't deceiving. Our hosts Wendy and Michael were extremely generous and their home was as splendid as any bed and breakfast I could have stayed at. And keep in mind, they had virtually no warning we were coming. David called them only this morning, so they didn't have time to spiffy up for us. They had a complete floor of their house reserved for guests and were not just welcoming, but they were grateful to share their secluded abode us. My room was filled with all the niceties you would expect in a fine B&B: complementary toiletries, freshly laundered linens on the bed, candle burning on the dresser next to brochures hawking local attractions, a TV, and a bathroom fit for a queen. The whole house was scrupulously clean and inviting. They did have a dog, Charlie (a lab mix who was just the sweetest, most well-behaved, non-smelly girl) and an ancient kitty who reminded me of one my own babies. With a cathedral ceiling and windows on the whole wall, their living room extended through to a deck that overlooked the valley and mountains in the distance. Other than the fact my whole house could fit in one of their rooms, I felt right at home!
Our hosts gave us some time to unpack, settle in and freshen up and then provided us with some yummy fresh fruit and adult beverages. Michael, as it turns out, is a bit of a tequila connoisseur (yay me!) and kept quite a selection of fine beer as well. David easily found his drink of choice as did I. Once we were all relaxed they took us to dinner on the town at the Texas-sized estate of the Sierra Nevada Brewery. I'm not a beer drinker but if I was, you know I'd have found myself in a little slice of heaven. In addition to the brewery, they have an enormous restaurant/bar both inside and outside, a giant herb garden you can stroll through, an amphitheater, a gravel path leading off somewhere in the woods (we didn't get too far before we were called back to our table), and they're dog friendly. They're also bicycle friendly. The bike racks in the front parking lot (which is hardly a lot – more like tree-lined, paved paths to park your car) have tools hanging from cables in case you need to make any repairs or tweaks. They've thought of everything!
We whiled away a few hours chatting over tappas style foods and drinks. I normally go to bed by 9PM and it was a bit later than that when we finally wound our way back up the mountain to their home. Although I was tired, it was a lovely way to cap off the day! I nestled into my luxurious (and fresh smelling) bedding and thought that tomorrow's adventures are going to be AMAZING if today's ride, our accommodations, and tonight's events are any indication.
Bring it on Dragon, I've got you in my sights!
What I didn't bargain for, was that it knew I was coming….
Details